Tips for Treating Patients Throughout COVID-19
Dr. Al Pinto practices chiropractic medicine and is the owner of Spine and Joint Associates, located in South Bend Indiana. With his wife who acts as office manager, the practice includes four doctors, operating out of two offices.  Aquatic therapy is one of the many services the practice offers, featuring two HydroWorx above-ground underwater treadmill units. During a recent webinar, Dr. Pinto presented his approach for providing aquatic therapy, how he makes business decisions on the purchase of large equipment, and how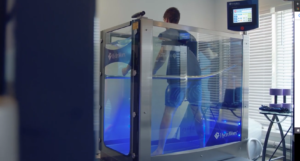 COVID-19 has affected the way he treats patients.
Dr. Pinto described aquatic therapy as a unique offering in his area of South Bend, representing a significant differentiator and setting them apart from competing practices. He then emphasized the many benefits of water and the enhanced outcomes that result from providing aquatic therapy for his patients. Because of its extraordinary physical properties, water is therapeutically beneficial – especially for those who are overweight, as these patients are able to exercise without feeling pain or pressure on their joints. Dr. Pinto described aquatic therapy in his HydroWorx systems as "an empowering type of modality".
When adding aquatic therapy to your practice, here are some expense factors that you should research and consider in order to choose the right options for your practice:
Overall operating costs
Equipment acquisition: renting vs. leasing vs. buying outright
Increased Utility bills
Decide if your facility will provide linens and swimwear
The cost of water treatment chemicals
Equipment maintenance
Towel warmer
The current spread of COVID-19 has affected businesses everywhere and providing healthcare is no exception.  Dr. Pinto described just how he is continuing to treat patients. He emphasized that he is quite comfortable putting patients into the water because "the water itself is going through elaborate high-tech filtration" which kills any bacteria or infectious agents. He shared with attendees that he feels so very comfortable treating patients with water that he recently had both his wife (who is eight months pregnant) and also his 87-year-old father in the water for their treatment.
Here are some additional tips that he shared regarding working with patients during COVID-19:
Masks are to be worn by all patients and the staff.
Following each patient, the surface areas of the HydroWorx equipment is treated with a disinfectant agent that stays on the surface for 3 full minutes before wiping the unit down.
All of the linens and swimwear that are provided by his office are single-use and they have a strict cleaning cycle for these linens.
Finally, Dr. Pinto shared that due to temporary spikes in local COVID cases they had to shut down the clinic on two separate occasions.  Ultimately, the practice stands now as a model for how best to continue offering the benefits of aquatic therapy during these challenging conditions.  To watch the full webinar, visit our website.