The Secrets to a Thriving Aquatic Therapy Practice? Teamwork and Planning
When Brian Howells, Director of Rehab Services at Via Christi Health in Manhattan, Kansas, talks about his organization's aquatic therapy journey, he's filled with excitement. After just a few years, he and his staff members have built a successful resource for the community and are reaping the clinical and financial benefits at their practice which features a HydroWorx 500 Series and sees up to 14 patients per day.
What's their secret? For Howells, it's clearly the planning and teamwork they implemented from the get-go. Learn more by watching the webinar.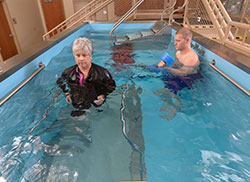 During a recent webinar, "Creating a Successful Aquatic Therapy Program Through Teamwork," Howells generously devoted his time to discussing how he built his practice. Some of the more valuable tidbits from the online event included these pieces of advice so integral to making hydrotherapy beneficial for all involved:
You should go beyond the standard definition of "team." For most people, the team would consist of the people who are directly involved in aquatic therapy. What they might not recognize is that many other individuals are contributors; therefore, their buy-in must be garnered. Who were Howells' team members? His administrators, the outgoing rehab director, his therapy staff, his front-office staff, marketing personnel and other hospital directors from various departments. By including everyone at the outset, it's much easier to get support later.
It's critical to do your market research. Look at your surroundings to determine if aquatic therapy could benefit your clients. For Via Christi Health, the market research was obvious. In a 55,000-person community with a surrounding population of 50,000 and a thriving college and military base, no other aquatic therapy facility was available for 45 miles.
Knowing the numbers is essential. Howells doesn't mean just the numbers involved in the purchase and installation of an advanced aquatic therapy product. He means evaluating the reimbursement rates and seeing how quickly aquatic therapy could pay for itself based on how many more clients could potentially be seen in a day.
Marketing takes place on big and small levels. From a bigger standpoint, Howells' marketing team took out a large ad in the nearby Kansas State University football season program to announce its aquatic therapy offerings. This caused an instant stir and drove consumers to ask their referring physicians to consider aquatic therapy as part of physical therapy. Smaller marketing efforts proved to be just as successful. Howells actively marketed to family practices, orthopedists, pediatricians, neurologists and other physician groups. He also reached out to support groups for Parkinson's and seniors, as well as the Chamber of Commerce. At Via Christi Health, Howells worked together with the weight-loss clinic, pain management doctors, the diabetes clinic and their in-patient rehabilitation team. His comprehensive efforts drove word-of-mouth marketing to the point that they no longer feel the need to engage in larger marketing efforts.
Training a team is crucial. Turning physical therapy professionals and support staff into aquatic champions doesn't happen on its own. It requires training sessions on everything from water safety testing to patient documentation and regulations. Even the front office should be trained in the right way to answer questions about the new offering; this benefits the consumer as well as the aquatic therapy program.
It's wise to expect the unexpected. When Howells' aquatic therapy program opened for business, they had a surprising four patients on their first day. From that point, they steadily climbed in numbers, hitting more than 5,400 units of aquatic therapy by year five. This allowed them to pay off their investment faster than they thought, as well as serve populations they never considered. They've seen patients with TBI, MS, tumor removals, Down syndrome, spinal muscle atrophy, DJD, Freidreich's Ataxia and conversion disorder.
Do you want to find out more from the humble, engaging Howells, including what he thinks his team could have done better? View the webinar on-demand today.