The Key "Wet" Ingredients to Measuring Aquatic Functional Progress
In a recent webinar, Kathleen Dwyer, OTR/L, CHT, explains the key "wet" ingredients of making aquatic therapy not only a fun alternative to land-based therapy but a way to facilitate the measurable functional progress that is vital for insurance reimbursement. Kathleen has been working with aquatic therapy for over ten years and stresses the importance of knowing how to properly bill for aquatic therapy and the fundamentals of audits for services offered within aquatic settings.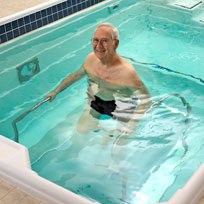 Kathleen has opened two aquatic therapy centers from the ground-up and is currently assisting in opening a third center. She recognizes the benefits of aquatic therapy for her patient's and stresses the importance of improving their day to day life or "activities of daily living." Water is a great place to have patients begin.
During "Creating and Documenting Measurable Functional Progress with Aquatic Therapy," Kathleen shares a story about helping a patient achieve his goals with aquatic therapy by using a measurable plan of care for his activities of daily living.
The patient, Ryan, experienced a stroke and lost feeling in the right side of his body. As soon as he found out about aquatic's as a form of therapy, he had an interest in setting his short and long terms goals around a plan of care with water. Kathleen and Ryan evaluated his goals together and set a plan of care focused on the framework that water was a better option than land-based therapy to begin. Ryan's initial goal was simply to be able to get off the ground. By working with the therapist in the pool, he was challenged to transfer his body from the pool floor and then sitting up. Ryan knew he was supported by the water and he could not get hurt which helped him gain confidence to reteach his muscles how to do these tasks. Ryan's next goal was to return to the hobby of fixing up his own car and his long-term goal was to return to his job as a mechanic. Ryan did just that and is now back to working and doing what he is passionate about.
For Medicare to reimburse, there are requirements for therapists to perform "skilled" exercises towards the patient's goals, such as:
Therapists need to be clear as to why the care of a therapist is needed. Justifying the need based on the plan of care to improve activities of daily living for the patient is important.
Skills require supervision and a direct order. Examples include giving the patient cues for proper muscles requirements, enhancing posture, timing and walking backwards.
Continually changing the tasks that patients perform is important as well as modifying the plan of care for the patient around the goals that were set. Medicare expects therapists to make frequent changes to lead to a traditional PT or OT approach on land and ultimately to a discharge from therapy.
Providing a clear reason why water will benefit the patient. Kathleen found that by educating the referring doctors increased the use of aquatic therapy in her patients' plan of care.
Therapists need to show Medicare (CPT Code 97113) the below specifications to receive reimbursement:
Prove aquatic therapy is needed and proven based on the patient's medical status
It is specifically for the patient who may not tolerate traditional land-based therapy
Exercises should be designed to progress to land and promote function for the patient
The therapy must be making progress towards goals and cannot be for general maintenance
Medicare expects constant changes to be documented on the progress of the patient while undergoing the course of treatment. Simply noting, "The patient was able to…" in the patient's file is important for continued care by justifying the covered service. Medicare does not support or cover repetitive exercises. Therapists must modify the exercises in the plan of care in order to receive reimbursement. Kathleen stresses the importance of documenting how aquatic therapy impacts the patient's function including the pain rating, location of the pain and effect of the pain. Be as specific as possible. Take time to document all interventions of therapy such as verbal and tactile cues. Give yourself credit. You're educating patients all the time!
To learn more about the steps of documenting measurable functional progress, view the webinar here.>>