Take Your Basketball into the Water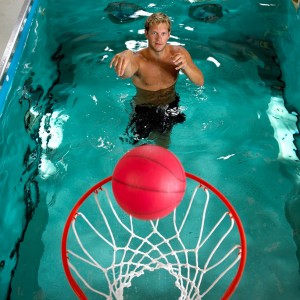 When looking for ways to make workouts different or more enjoyable, don't forget to look underwater! Although athletes may not benefit from "water aerobics," there are some great advantages to taking a sport-specific workout into the water. Add a basketball hoop to the edge of the pool, dunk the basketball underwater and you have a whole new way to train for game day.
When Tim DiFrancesco PT, DPT, ATC, CSCS worked at Peak Performance in Swampscott, MA, he put local players through some intense workouts in the HydroWorx 500 Series pool to provide a new way to work out as well as to enhance training. Using some imagination, DiFrancesco replicated many land drills in the pool to push his athletes while also working stabilizing muscles. These intense workouts would leave the players feeling like they got in a hard workout, but without the soreness and exhaustion they typically experience after land workouts.
Watch this video to see some of the drills that DiFrancesco used to train these basketball players using water.
To learn more from Tim DiFrancesco on using aquatics, register today for his webinar "Aquatic Training for Healthy Athletes!"  The webinar will take place TODAY, September 10 at 11:30am EDT.