Syndesmotic Ankle Reconstruction Using Aquatic Therapy Webinar is On-Demand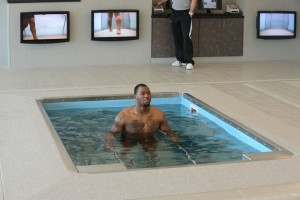 On February 11, 2016, we hosted a webinar titled, "Rehabilitation of Offensive Linemen Utilizing Aquatic Therapy Following Syndesmotic Ankle Reconstruction." In this webinar, Brian Lund, MS, ATC, LAT,  Assistant Athletic Trainer for Football, University of Wisconsin, located in Madison, WI, presented on the unique rehabilitation methods utilized to treat a University of Wisconsin football player after syndesmotic ankle reconstruction.
A syndesmotic ankle injury is typically referred to as a high ankle sprain and can often be resolved without surgery and focused rehabilitation. Unfortunately, sometimes the rehab is a bit more complicated. In the case that Brian presented, multiple similar injuries made this situation slightly more complex.
This 21-year-old sophomore offensive center, who had no history of ankle injury, sustained a combination low and high ankle sprain during the second to last drive of the last game of the season. After sustaining two more similar injuries in the following months the decision was made to undergo surgery to stabilize the tibia and fibula. The surgeon performed debridement and a fixation with a buttress and tight rope.
After 4 weeks non-weight-bearing and two weeks doing physical therapy at home, he returned to campus at week 6 and began rehabilitation with Brian. At this point, he was full weight-bearing in the walking cast and was ready to begin strengthening in all planes. The athlete had used the pool after a prior back surgery and really liked it, so it was decided, with the support of his doctor, to do most of his rehab in the water.
Since the athlete enjoyed the hydrotherapy so much, he would sometimes spend an hour and 20 minutes in the pool.
6 weeks post-op exercises included:

standing ABCs
forward walking on underwater treadmill using underwater cameras to help normalize his gait
leg swings
retro walking to help with dorsiflexion
flutter kicks
calf raises
deep water jogging
massage hose to manipulate scar tissue

8 weeks post-op (full weight-bearing) included:

increased dry land rehab
increased intensity of pool rehab
ball toss
lunge squat as a functional position for an offensive center
lunge into jets
sprint progressions with 100% jets
decreased water depth
increased jet resistance
increased underwater treadmill speed
plyometric drills
offensive line drills which kept him engaged and from getting bored
At 12 weeks post-op, he had new X-rays and was cleared to begin running on land. He noticed when he started jogging that, since he had done so much conditioning in the pool, it was easier to get back to full speed. He had no ankle issues throughout the following season.
Brian included details and great videos of each of the aquatic exercises used in each phase of the syndesmotic ankle rehabilitation and advantages of using water. Brian Lund has made great use of the hydrotherapy capabilities at the University of Wisconsin in Madison, WI.



Following the informative presentation, Brian answered several questions from attendees. A few of them are below:
When you were doing the cutting and positional drills, was the underwater treadmill on?
For cutting drills, the treadmill was at 8mph with jets at 100%  and the athlete would cut in and out of the jet.
For the o-line drills the treadmill was off and the athlete had to generate his own momentum, just like he would on land.
How long was a standard rehab session including dry land and pool?
Two hours for lift and run sessions, Monday – Friday (varied what they did every day).
At any point during rehab, were there any setbacks that required the athlete to rest or reduce rehab temporarily?
For a large athlete he was very comfortable in the pool. He never had big swelling, or anything that scared him throughout practice.
What was the athlete's feedback from using pool?
He loved being able to run and monitor his gait in the various camera angles. He felt it was the biggest key to normalize everything through video while doing exercise.
Do you normally see a difference in return to play time for aquatic therapy vs land-only therapy?
I definitely think it accelerates their rehab. We put every injury in the pool. We are able to do gait training faster, jog faster and get people moving faster. This is important for highly competitive individuals who like to be moving and don't want to just sit on a table.