Struggling to Help Low-Functioning Physical Therapy Patients? Watch This Webinar.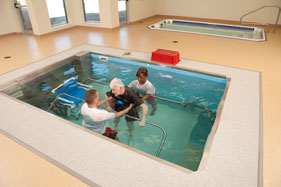 Every physical therapist has them – patients who attend one physical therapy session, only to self-discharge and never come back. It's a frustrating experience on many levels.
If you can relate to this type of challenge, you'll appreciate this on-demand webinar led by Keith Ori, PT, Co-Owner of Orthopedic Rehab, Inc., and Teresa Kropp, PT, Orthopedic Rehab Spine and Aquatic Center Clinical Manager. Ori and Kropp bring a fresh approach to meeting the needs of the potentially "one and done" patient through aquatic therapy, and they eagerly explain their methods.
What Causes a One-and-Done Mentality?
During the presentation, the five reasons that most people stop going to physical therapy are addressed:
Sometimes, a patient has heard misinformation about the physical therapy process, such as that it's always painful and may not even be necessary. These types of rumors create a sense of dread in patients – before they even step foot into a physical therapy clinic.
Frequently, one-and-done patients have comorbidities that contribute to their frustrations with physical therapy pain. These patients may have preexisting medical conditions like obesity and diabetes that, indeed, make it difficult for them to feel comfortable doing rehab in a land-based environment. However, what they don't realize is that a water environment affords them freedom from pain.
Real or imagined, fear is always a consideration for some populations. They may believe that all physical therapists are aggressive, or they may be worried that they cannot do the exercises. When we're afraid, we tend to shy away from activities, even activities that might be good for us.
Is there a physical therapy clinic or hospital in your area with a bad reputation? A physical therapist whose unconscionable practices have been highlighted in the media? Word-of-mouth reputation is a huge factor in whether or not patients will come back.
From finances and job commitments to transportation and family issues, patients can always come up with excuses not to attend physical therapy.
The onsite aquatic therapy pool allows Ori and Kropp the ability to comfortably work with anyone, including those whose challenges may hinder successful rehabilitation on land (e.g., bad knees, ankle problems, hip problems.)
Successful Aquatic Interventions for Care
Aquatic therapy includes treatment rehab, wellness and fitness, and prevention. The unique properties of this emerging modality enhance treatments for patients across the age span with musculoskeletal, neuromuscular, cardiovascular/pulmonary and skin conditions. Most people feel better after physical therapy in a warm water pool because they've increased their blood flow, decreased pain and made some progress. It's a reasonable, cost-effective, successful way to provide aquatic therapy for all patients, but especially low-functioning ones who have discomfort, lack strength, lack endurance and have confidence issues.
In other words, a single treatment in aquatic environment can provide individuals with a new lease on rehab… and an increased likelihood that they will return for their appointments!
Move Forward: "Physical Therapy Brings Motion to Life"
The Orthopedic Rehab motto is that "Physical Therapy Brings Motion to Life", and Ori and Kropp believe strongly that their slogan can be applied to anyone when water-based interventions come into play. After all, the benefits of aquatic therapy are well-known: buoyancy, thermal shift, hydrostatic pressure and viscosity.
To showcase just how effective water therapy is for patients who have comorbities that could easily land them on the "one-and-done" list, Ori and Kropp give webinar attendees the background of three of their case studies. These case studies include a 65-year-old male, a 71-year-old male and 63-year-old female.
Each discussion includes statistical data illustrating the advantages of working with patients in water, as well as how hydrotherapy helped each person get stronger, more flexible and personally motivated.
Learn Exercises, Insights and More!
In addition to already-mentioned topics, you'll learn quite a bit when you listen to this on-demand webinar, including exercises to try in your own onsite or offsite therapy pool and answers to questions such as:
Can you use aquatic therapy for specific weight loss programs for your population?
How do you attract referrals from doctors with low-functioning patients? Do you ever get objections, and how do you overcome them?
How many minutes per session do you spend with each aquatic therapy patient? How many sessions total?
What are the advantages of owning a pool rather than renting time at a local public pool?
Can you have more than one Medicare patient in the pool at one time?
Get a well-rounded view of how you can use aquatic therapy in your own practice to reduce the problems associated with non-compliance. Click here to watch our on-demand webinar right now!