Stop by Booth #8 at CATS this Week!
HydroWorx is on the move this spring and the next stop is Las Vegas for the annual College Athletic Trainers Society's conference! The College Athletic Trainers' Society offers a variety of opportunities for athletic trainers, physicians and non-members to learn and network with the best in collegiate sports medicine, and this annual meeting is one of these great opportunities.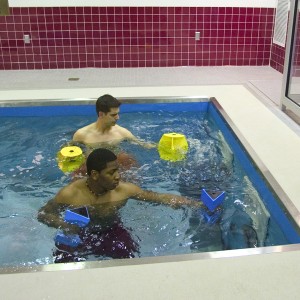 As a proud sponsor of CATS, HydroWorx hopes to meet you in  Booth #8 at The Orleans Hotel, Las Vegas!  Top athletic trainers worldwide are turning to aquatic therapy to decrease athlete's recovery time as well as increase strength and endurance. They have found aquatic therapy to be a modality that safely decreases rehabilitation time frames and patient's pain levels. The results have been so dramatic that, in some cases, athletic trainers and clinicias are beginning to rewrite expectations of outcomes and protocols due to the use of advanced aquatic therapy technology. Meet with HydroWorx's Regional Director, Matt Foss, in Booth #8 to learn more!
Additionally, attendees will have a chance to win a $100 Gift Card! Sign-up below or on-site for our free upcoming webinar to be entered in the drawing for the gift card!
We are looking forward to seeing you there!
Free Webinar: Use of Aquatics for Improving Linear Speed Mechanics
On May 21, 2013 from 12:30pm to 1:30pm EDT join our co-presenters Lance Walker, Director of Performance for Michael Johnson Performance and Lindsey Anderson, Linear Speed Specialist for Michael Johnson Performance, for this webinar on improving speed mechanics in water.
The participant will be introduced to general concepts of linear speed training, including acceleration and absolute speed mechanics. Participants will also learn how a coach, athletic trainer, physical therapist, or performance trainer can use aquatics as an additional effective training modality in teaching and improving elements of speed in athletes of all levels. Register Today!