Why Michael Johnson Performance Believes Water Worx for Performance and Rehabilitation
Recently, we made a special trip to Texas to visit with our friends at Michael Johnson Performance!  Michael Johnson, the owner and founder of MJP, (you may know him as the 4 time Olympic Gold Medalist and former "Fastest Man in the World"), and Director of Performance, Lance Walker, CSCS, PT welcomed us to their facility to show us how their facilities help athletes, of all levels and sports, achieve their full potential and reach their goals.
The focus at Michael Johnson Performance is multi-dimensional, including speed & agility training, strength and power work and much more. As Johnson described, the facility is focused on everything outside of the skill of the athlete, including injury rehab, injury prevention, nutrition, and training. The core of what they do is helping athletes improve their overall athleticism.
In our interview Johnson discusses this up and coming philosophy, what he described as 'sports performance training'. For years, as Johnson did growing up, kids participated in numerous sports, therefore developing into an all-around athlete. However, more recently, athletes are specializing in one specific sport much sooner, therefore not receiving the benefits of playing more than one sport.
This is where the development of sports performance training comes into play.
Sport performance training enables all athletes to develop into a well-rounded competitor by introducing the benefits they would have received organically if they played numerous sports. The athlete will work on a number of different things in order to reach their full potential, such as speed, agility, power training, resistance training, and water therapy.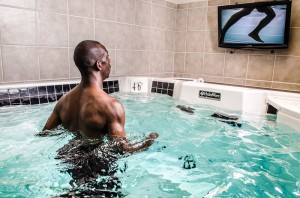 Lance Walker, Director of Performance at Michael Johnson Performance, also takes some time to discuss the importance of sports performance training as well as how water training plays a vital role in that process. Walker was introduced to aquatic therapy as a physical therapy student where he learned the impact that water has on recovery as well as gait training and post-surgery rehabilitation.
Why is aquatic therapy important?
Recovery. The professional athletes spend a lot of time in training, which is why there is a huge emphasis on recovery at Michael Johnson Performance. Introducing hydrotherapy strategically within the athlete's training cycles continues or even increases the amount of land-based training they are able to do, because of the recovery benefits of the warm water pool.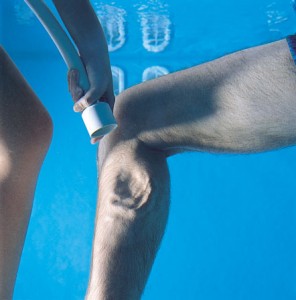 Walker continues to discuss how "contrast hydrotherapy is one of the key modalities used on a daily basis for recovery." Athletes are finding that the use of the contrast hydrotherapy pool augmented with the massage hose is helping to expedite the intercession recovery sessions
Additionally, at MJP the pool is used for power training, to get a number of athletes that may be a bit older or experiencing cartilage issues in the pool for high explosive power training sessions- that otherwise would not be able to be done on land.
In all situations and with all athletes, the use of the hydrotherapy pool is for regeneration techniques, post-training.
How have you integrated aquatic therapy into your training?
Physical therapy and aquatic therapy, Walker shares, is not separate from performance training. He believes that no athlete is ever perfectly healthy; therefore physical therapy is high priority at  Michael Johnson Performance.
Why is the HydroWorx treadmill more effective than an anti-gravity treadmill?
One specific thing that Walker points out is the freedom of movement that you have in the pool versus the restrictive anti-gravity treadmill. Hear more of what Lance Walker has to say about the benefits of running and training on the underwater treadmill in his interview!
Be sure to watch all the videos on YouTube from our visit at Michael Johnson Performance to learn more about the importance of integrating aquatic therapy with sports performance training. Watch Michael Johnson running in the pool now!