Senior Facility Breaks Through Barriers to Achieve Success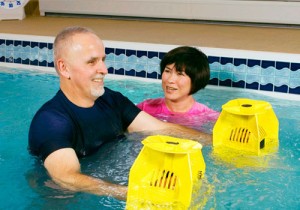 The following blog post has been summarized from the recent article, "The allure of outpatient aquatics," by David Panteleakos, Administrator at Westview Health Care Center in Dayville, CT. This article was published online at McKnights.com.
With the ever-changing healthcare landscape, it is becoming more and more important for senior communities to look at ways to expand their offerings to uncover new sources of referrals and revenue sources. At Westview Health Care Center, administrator David Panteleakos knows that in order to maintain stability they needed to grow revenue streams by offering unique services to stand apart in their area.
In order to break through barriers that were keeping them from achieving their goals, they stepped back and looked at what services were in demand that they could offer. One of those services, which had the potential to serve many actively aging adults in their area, was aquatic therapy .
A few ways that Westview Health Care Center has been successful include:
Developing a strategic plan (costs, revenue and how it would be used) prior to purchasing a pool in order to ensure success.
Telling anyone that will listen about their therapy pool and its unique features. Getting people excited is a key marketing tool.
Focusing on the future of healthcare and the Affordable Care Act and recognizing that the vertical integration of services is critical to staying successful. By using aquatics, not only for inpatient programs, but also expanding to outpatient programs, senior facilities can offer more services to the community.
Recognizing that creativity is extremely important to stay relevant and competitive. For Westview, this meant expanding to offer a sports medicine program as a part of their outpatient services to provide additional revenue and reach a new generation of future potential residents.
It is important to run a senior community that is efficient, high-quality and attractive. Westview Health Care Center has focused on innovation and creativity to stay afloat in the future of healthcare.
To learn more about Why Water Worx for Senior Living and Senior Services, download this white paper today>>