Research Shows Aquatic Therapy Improves Balance and Stability
In 2010, the Center for Disease Control and Prevention (CDC) revealed that one third of persons ages 65+ can expect to fall annually. Thankfully, the majority of those who fall are able to return to their daily activities, but up to 30% percent will pass away from their falls, increase their likelihood of passing sooner and/or have to be hospitalized sooner as a result of the fall.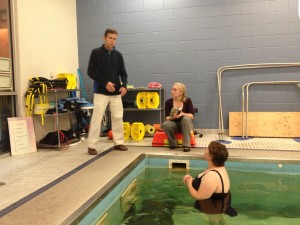 How can we help prevent that statistic from growing?
A recently published research study from Utah State University, "Effect of Aquatic Immersion on Static Balance," was created with that question in mind. The study, authored by Talin J. Louder, compared the measures of static balance and limits of stability in both land and aquatic environments. During their research, Louder and his fellow study authors, including Utah State University's Dr. Dennis G. Dolny, measured participants' balancing abilities under three settings: on land, submerged in a HydroWorx therapy pool to the waist, and then submerged in the same pool to the chest. The results indicated that when they were in the aquatic environment, participants had to work harder to maintain their balance.
"When healthy adults stand quietly in chest deep water, they display greater postural instability compared to on land. Developing stability using exercises that are characteristically unstable, yet safe (e.g., aquatic environment) improves coordination and balance. Improvements in balance lead to reduced fall risk in the elderly. So the water provides a more challenging environment to work on stability, yet is obviously a much safer environment with essentially no down side if loss of balance occurs, as compare to land." – Dr. Dennis Dolny
The results of this study indicate that aquatic therapy may provide a more promising and challenging environment to improve overall balance than land. At Stonehill Franciscan Services in Dubuque, Iowa, Director of Rehabilitation Rachel McDermott, PTA, regularly utilizes their HydroWorx 2000 Series therapy pool to improve patients' overall stability and balance. As she notes, putting their patients in the pool and using the resistance of the water (as well as the resistance jets and variable-depth underwater treadmill floor) has been tremendously helpful.
"We've seen a better return in balance for our patients, and a little quicker return as well. People often have a fear of falling, so putting them on a ball or asking them to lift up a foot is impossible on land. In the pool, they feel like they can accomplish more. There's less fear of falling, and they build more confidence. They are able to progress nicely. Any therapeutic exercises you can do on land, you can creatively adapt to the water."
Often, the increased confidence of your residents and patients leads to fewer cancelled appointments which positively impacts their lives and your organization as well. Learn more about this research study today>>
Download our Research Studies Book for a comprehensive overview of studies that have been done on underwater treadmills.