Research Shows the Health Benefits of Aquatic Exercise for Adults
As the days grow shorter and colder this season, it can be difficult to muster up the motivation to stay active, especially for aging adults. The thought of leaving the comfort of your warm home to head out into the cold to exercise does not always seem appealing. However, learning the benefits of warm water therapy for the aging adult, may be just enough to get you moving! And not to mention, the water is above 90 degrees!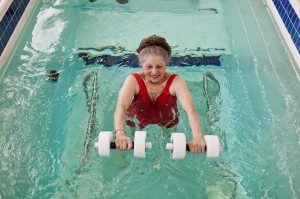 A study from the University of Wisconsin titled, "Health Benefits of Underwater Treadmill Exercise for Active Adults," was designed to assess the health benefits of hydrotherapy in active adults. Fourteen adults, who already exercised three days a week, participated in the five week research study. Each participant had a history of physical ailments. The individuals exercised on the HydroWorx underwater treadmill two days a week for forty minutes. The exercise consisted of both aerobic exercise and aquatic resistance training. Additionally, they each took a quality of life survey that measured the changes in flexibility, ability to perform daily activities, energy levels and overall sleep patterns.
All of the participants reported positive responses in the areas surveyed. They all expressed feeling better both physically and psychologically during the 5 week aquatic exercise period. The group average for flexibility improved about twenty percent after the testing period. Additionally, some reported decreased joint pain and better quality of sleep.
This study has shown that aquatic exercise on an underwater treadmill is a positive way to improve flexibility, sleep patterns and reduce muscle and joint pain in middle-aged and older adults.
To see a full overview of all of the research on a HydroWorx underwater treadmill, download our free Research Studies Book here>>