Ready for Some Football? NFL Preseason Games Start Thursday!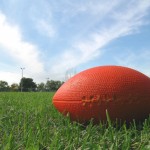 It's time for the NFL preseason games!
If you're a football fan or just someone who loves an excuse to head to your nearest sports bar and take advantage of 10 cent wing night, you may just be interested in keeping up with the week 1 preseason schedule.
(Note:  We've bolded teams that use HydroWorx!)
THURSDAY, AUGUST 11
Baltimore at Philadelphia
Jacksonville at New England
Seattle at San Diego
Denver at Dallas
Arizona at Oakland
FRIDAY, AUGUST 12
Cincinnati at Detroit
Miami at Atlanta
Pittsburgh at Washington
San Francisco at New Orleans
Tampa Bay at Kansas City
SATURDAY, AUGUST 13
Green Bay at Cleveland
New York Giants at Carolina
Buffalo at Chicago
Indiana at St. Louis
Minnesota at Tennessee
MONDAY, AUGUST 15