Providing Much Needed Aquatic Therapy Produces Life Changing Results
The following blog post has been summarized from the recent article, "Hope Floats," written by Kimberly N. Atkinson, PT, MPT, NCS, Linda Shelburne, PT, MBA and Cheryl Weixler, PTA of Frazier Rehab Institute, part of KentuckyOne Health and published in the October issue of Rehab Management.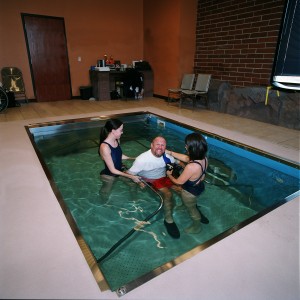 Within the United States the demand for physical therapy and rehabilitation for people suffering from traumatic brain injury, epilepsy, ALS, spinal cord injuries and strokes has risen into the millions. With this demand come some challenges created by the effects of these patients' conditions. Some obstacles to successful therapy and rehab with these patients are the difficulties they experience with balance, motor control and walking like they were once able to. These barriers that once compromised patients' ability to meet their therapy goals have now led to a flexible form of therapy: aquatic therapy. The ability to offset up to 90% of a patient's weight within the water creates a stable environment for a client to regain movement while minimizing the risk of falling.
A common concern that arises in physical therapy is the risk that a patient could incur more injuries due to a fall. This concern can make it challenging to work with a patient on land due to their fear of falling distracting from their focus on regaining balance and motor control. Warm water therapy has been the answer to these concerns and has been able to benefit patients in conjunction with their land-based therapy. The main goal for starting patients in aquatic therapy is to help gain their confidence and capability back, while also regaining as much functional independence as possible. Being able to provide a patient with a calming atmosphere where they are able to challenge themselves with walking and balance exercises without quickly fatiguing is the answer to many concerns associated with the therapy of patients with neurological conditions.
Within the Parkinson's community, many physical therapists who have access to therapy pools have integrated aquatic therapy into their rehabilitation sessions to help restore large movements for their patients. Physical therapists have been practicing this type of therapy more, due to the LSVT BIG premise that if patients can learn big movements then it will help them perform the small movements that are affected by the disease. Therapists that have incorporated water therapy sessions with their patients have been seeing excellent results, which has stimulated more research to be conducted about this LSVT BIG theory and its effect on patients with other neurological conditions.
A recent success story from Frazier Rehab Institute, where they had a client with a fear of water that originated from childhood. Despite his fear of water, he was well aware of his need for the benefits of aquatic therapy and used this as an opportunity to overcome his lifelong fear to achieve a better quality of life. To ease his fears, aquatic therapists from Frazier Rehab Institute allowed his daughter to join him in the pool for the first few sessions. By the end of his sessions he had not only conquered his fear of water, but he was able to walk without assistance and changed the way he went about each and every day.
Success stories like this onefrom Kentucky have become more and more common within rehabilitation facilities with therapy pools. Aquatic therapy has changed the philosophy of physical therapy and the results for people with neurological conditions.
View this FREE On-Demand Webinar: Innovative Co-Treatment Therapy Combining Physical and Speech Therapies in an Aquatic Environment
View this on-demand webinar entitled, "Innovative Co-Treatment Therapy Combining Physical and Speech Therapies in an Aquatic Environment." The presenters, Timothy Williams, PT, DPT, and Ambyr Henderson, MS, CCC-SLP, Speech and Language Pathologist at Pullman Regional Hospital, will present an innovate co-treatment approach utilized within a therapy pool to enhance the outcomes of a child recovering from a brain tumor. View this on-demand webinar here.