Free Webinar for Senior Living Communities
Join us for a free webinar on "Why Water Matters in a Retirement Community Wellness Club." 
On April 29th, 2014 at 1:00pm EDT, Nicholas Drey, MS, Wellness Director at Walnut Ridge at Clive Senior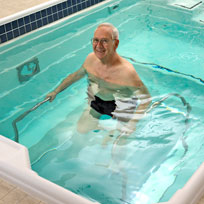 Community, will present on why water matters to the aging population- and why a pool is an investment that is worth every penny.
In this webinar Nicholas Drey, MS, Wellness Director at Walnut Ridge at Clive will discuss the increasingly popular amenities that retirement communities are beginning to offer along with how wellness centers are incorporating this advanced  fitness equipment into their exercise and wellness facilities. Attendees will learn the benefits to making their facility unique and different than other facilities. In addition to generating revenue, the water and land features are a great marketing tool that will lead to long-lasting relationships with community members.
In this case study, find out why Walnut Ridge at Clive Senior Community was able to create a successful and thriving wellness center by including a lap pool and smaller, warm water therapeutic pool along with the land-based fitness options.
After watching this webinar attendees will discover:
Why water is a perfect option for a retirement community
How to design options that generate revenue
Who benefits from a successful older adult fitness center
Who will benefit from this webinar:
Directors/instructors at retirement community wellness clubs
Owners/managers of pools
Owners/managers evaluating the purchase of a pool
Development companies and architects
About the Presenter:
Nick Drey is the Director of Wellness at Walnut Ridge at Clive Senior Community in Clive, Iowa. His primary areas of focus are geriatrics, land and aquatic fitness, and athletic performance. Prior to joining Walnut Ridge, Nick worked as a Health and Fitness Coordinator at Mercy Fitness Center in Cedar Rapids, Iowa, and as an adjunct instructor at Coe College. He oversees the wellness club for residents of Walnut Ridge and members living outside of the community. Nick is a member of the American College of Sports Medicine, certified as a Health Fitness Specialist. He has a Master's degree in Exercise Science from Wayne State College.