New Standard of Care for Our Nation's Veterans
The following post has been summarized from the recent article, "New Veterans Home Set Standard for Care," published in the November 2013 issue of Government Recreation & Fitness.
In honor of Veteran's Day including those who have served and are serving our country, we wanted to draw attention to two new veterans' homes that recently opened in North Carolina. The new 110,000 square foot, 100-bed skilled nursing facilities featured in the article are located in Kinston and Black Mountain, NC, and are a representation of the new standard of care for the future of our country's veterans.
Residents have single rooms with a private bath that reside in self-contained "neighborhoods" of 12-14 veterans, who share a common area that has a living/gaming room with a fire place and a large-screen TV, dining room and courtyard. This neighborhood design is unique and a bit unconventional, but it promotes a strong sense of comfort, family and community, all of which these residents truly need.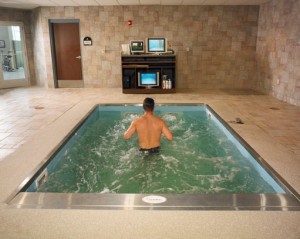 Additionally, each facility features a HydroWorx aquatic therapy and exercise pool, a gymnasium with strength training and rehab equipment, a state-of-the-art therapy center, a Memory Support Unit for Alzheimer's patients, and comprehensive therapy services.
With an ultimate goal of helping the veterans live as independently as possible, staff members at the homes are 'person-centered', assessing each individual's abilities and limitations. One example of this is from Dr. Allison Fender, therapy outcomes coordinator, who performs a standardized test for everyone who comes in for a fall-risk assessment. They will then create a custom strengthening and physical therapy program based upon each individual's results and needs.
"The HydroWorx aquatic therapy and exercise pool, which is overseen by a licensed physical or occupational therapist, has an underwater treadmill built in, providing the perfect environment for physical therapy and strengthening. We can control the speed from 0.1 mile per house to 8 miles per hour, and there are jets on the front to provide resistance. We keep the water between 90-92 degrees, so it will help with stiffness and joints and pain."
"The pool has been very beneficial for us as far as treating residents who have any type of balance disturbance or are unable to ambulate on land, says Fender. "The water provides buoyancy that allows us to perform gait training and transition them gradually and safely, so they are able to get back to their prior level of functioning," says Fender. "We place residents in the therapy pool who have had falls to try to normalize their gait and improve their balance and their neuroplasticity of the brain, which helps to decrease their fall risk. Our goal is to get them living as independently as possible; they can get around without assistance and take part in any activities that they want."
In addition to the consistent aquatic therapy sessions, veterans have access to a gym filled with various strength and conditioning equipment. Both of these facilities have aimed to provide our country's veterans with the necessary tools and equipment needed to regain as much independent function as possible. In addition to this equipment, many programs and activities are available, including a yoga class and Wii sports games. Large courtyards are also available for enjoying the outdoors and the staff at Black Mountain are trying to implement different types of activities that involve exercise and getting moving.
These new facilities are truly setting the groundwork for the new standard of care for the future of our veterans.
"We have created a better environment, one that is not institutionalized and there is more of a community. The veterans in the neighborhoods look out for each other, and sit and talk and listen to the radio and eat together in the small dining room. They really get to know each other, and we are really seeing positive results."
It is evident that there is a lot of healing going on in Kinston and Black Mountain, both physically and emotionally. We could not be more honored to be a part of these two new facilities as we are humbled by the dedication and commitment of the many residing veterans.
Learn more about how aquatic therapy and exercise is making a difference with our nation's service men & women.
On behalf of all of us at HydroWorx, we want to thank all of our nation's veterans for their service and we are very proud to be able to help those that have served and are currently serving our country.