New Cowboys Facility, The Star, On Top of its Game
Jerry Jones Tours The New Locker Room At The Star
The Dallas Cowboys recently opened their new state-of-the art, practice facility. The Star, located in Frisco, Texas, includes everything a player could need from an in-house chef, nutritionist and private restaurant to advanced training equipment. HydroWorx is proud to be a part of The Star with the HydroWorx 2000 Series and two PolarPlunge pools located in the "wet area" of the training facility.
The facility pays tribute to the legacy of past and current Cowboy players and staff. No detail was spared when capturing the essence of tradition the team has built over the past 56 years.  Take a peak inside with an insider look from Star-Telegram.
The project was a collaboration between the city, Dallas Cowboys and Frisco ISD. The full project is a well-rounded collaboration and provides state-of-the-art amenities for not only the Cowboys, but also the Frisco School District. The school will make use of The Ford Center at The Star for football games, soccer games and other events, such as graduation ceremonies.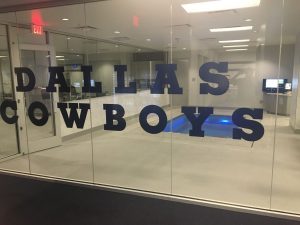 Previously, the Cowboys used the Dallas Mavericks HydroWorx 2000 pool when needed but are grateful to now have one of their own for their rehabilitation and conditioning needs.
Britt Brown, Associate Athletic Trainer & Director of Rehabilitation for the Dallas Cowboys, said,
"The multi-faceted functions of the HydroWorx 2000 gives us the ability to have a player move more quickly and effectively in the earliest stages of post-surgery recovery, and that accelerates the rehab process."  He also discussed the different aspects of the 2000 saying,  "Being able to raise and lower the floor creates easier, and earlier, access to a post-surgical exercise session.  That combined with the floor movement, water flow resistance, and digital video observation of an athlete in motion creates a much higher level of productivity and expedites healing and recovery."
Find out how professional football players are using HydroWorx to recover from ACL injuries>>