NEUROWORX PART I:  TOOLS FOR THE CRAFTSMAN
Our long-time partner, Neuroworx, located in Salt Lake City, UT, is a nonprofit, community-based, outpatient physical, occupational and speech therapy clinic for adults and children experiencing paralysis from spinal cord injuries, brain injuries, stroke, cerebral palsy and similar neurological conditions. It was founded in 2004 by physical therapist Jan Black, Pt, MSPT and Dr. Dale Hull.
Jan and Dale have continued to expand the Neuroworx physical facility as well as their therapeutic programs and educational opportunities. What they've done with their resources, we think, is incredible!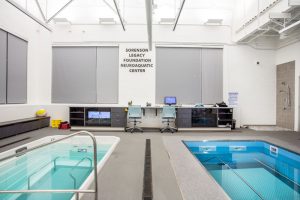 In a multi-piece series, we'll share with you Neuroworx's innovative ideas around their physical facility and equipment used, their educational outreach and some extraordinary case studies.
In August 2015, they moved into a new building located in Sandy, Utah, specifically designed for the Neuroworx mission. This state-of-the-art 24,500 square foot clinic is quite a contrast to the small 1,000 square foot room that was the original Neuroworx treatment center fifteen years ago. The $8 million project was made possible by the generosity of wonderful community donors, both large and small.
The HydroWorx 2000 Series and 500 Series pools are an important and integral part of the neurological rehabilitation offered by Neuroworx. In Dr. Hull's words, the pools "are a quantum change from a regular, static pool." Here are the reasons why, as he explained:
The 2000 Series pool has an adjustable floor making it possible to change the pool depth. The moveable floor is also extremely important for individuals who cannot manage stairs—the pool floor is raised to deck-level, allowing individuals to walk or roll on to the moveable floor and then be lowered to the desired depth. The depth of the floor ranges from a few inches to six and a half feet deep making it useful for small children, adolescents and adults of all heights. This also allows for a wide variety of therapeutic activities including crawling, sit-to-stand training, balance and protective response training and walking.
Both the 500 Series and 2000 Series pool floors have an integrated variable-speed treadmill with speeds as low as 0.1 MPH and up to 8.5 MPH. The ability to adjust the speed combined with the uniform surface of the treadmill make it an ideal tool for ambulation training. Both pools utilize underwater video cameras with the images projected to a poolside monitor. This allows both patient and therapist an extremely clear view of what is happening under the water surface and promotes a heads-up posture. Rather than looking down at their feet, the position of the monitor encourages the correct heads-up, eyes-forward posture essential for proper gait patterns.
Water jets in the front of the pool work to create a water flume for walking and running, or the water flow can also be used for resistance and balance training. Removable support bars can be configured either parallel or perpendicular to the treadmill direction of travel.
Pool Room Features
It was important to Jan and Dale to not only utilize the best therapy pools possible, but to create a pool room environment that was comfortable, practical and safe for both patients and staff. They used their prior experience with HydroWorx pools combined with observations made when visiting other rehabilitation centers as they designed their aquatic center. Below are the concepts included in their facility:
Humidity control. Pool temperatures are typically at 90° yet Neuroworx has no condensation on the huge pool room windows. How? A constant stream of outside air blows across the windows to prevent condensation and control humidity. The relatively dry Utah climate is perfect for this. The pool room stays nice and warm without the terrarium feel.
Neuroworx utilizes an "X-Y" lift system over the pool. This enables additional support for patients anywhere in the pool. The lift system also serves as an emergency egress since it is battery operated. If a power outage occurred, the lift system would provide a means to helping patients out of the pool.
Jan and Dale noticed many pool rooms have beautiful tile flooring, often without sufficient drains, creating a slip hazard for patients. They incorporated a non-slip surface and large drains in their pool room. As a result, water rarely puddles on the floor. Patients are safer and less water is tracked throughout the pool room.
Typical ceiling-hung florescent lights reflect off the surface of the water and make it difficult to see down into the water.. Neuroworx installed  indirect up-lighting to minimize this problem. Pool toys and apparatuses are very useful in a therapy pool setting, but can also clutter the room. To increase aesthetics in the pool room, they designed special cabinets with fenestrated fiberglass bottoms and an opening in the front. Every night all the wet gear goes into the cabinets, out of view. The water drains out the bottom of the cabinets, air circulates and dries the gear making it ready for the next day.
Non-gender-specific shower rooms allow caregivers of the opposite sex to accompany their family member or friend into the showers and changing areas. Even with multiple patients of the same gender in the pool room at once, there's no waiting. Benches provided in the showers allow patients to dress before returning to their wheelchairs.
Land Therapy Area, Ambulation Center
Neuroworx has a designated land therapy area, ambulation center and other important offerings throughout the center. These features include:
Vibration plates. Vibrating muscles at specific frequencies while exercising can augment the strengthening response. Vibration is also beneficial for reducing spasticity and to stimulate balance responses.
Body-weight supported locomotor gait trainer. Individuals are suspended over the treadmill and the therapist touches the leg during ambulation to trigger a stepping response.
A Lokomat® robotic ambulator works by moving the legs extrinsically using a sophisticated software program. A visual feedback system, using a video game environment can be projected on a screen in front of the patient. A Vector®  over-ground gait and safety system lets patients walk with confidence and no fear of falling. Therapists program a "fall level" and patients move without fear, knowing they won't get hurt.
Full-court basketball gym is used for therapy, a practice court for wheelchair basketball, and space for meetings and social events.
Outside therapy patio gives patients a chance to practice skills outdoors, with ramp, stairs and diverse surfaces.
A quality music sound system is installed throughout the clinic.
Finished basement allows room for a pediatric playroom, presentation center with big screen TV, art room, driving simulator and, eventually, a virtual reality treadmill room.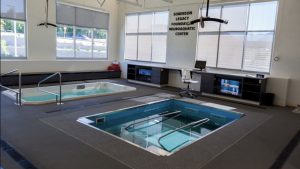 Jan and Dale's philosophy is to create a facility that is a source of hope and a place of progress. Providing their therapists with the best tools possible is critical to that mission. "Our therapists are the artisans that create the masterpieces," says Dale. "It is their skill and dedication, combined with technology that produces greater progress and better outcomes. The HydroWorx pools fit perfectly into our treatment model."
In an upcoming post, we will share this company's educational impact and pediatric case studies. From their humble beginnings in 2004 with a mat, a therapy ball, some hand weights and a milk crate file, we'll see how they are impacting lives in more than 24 states and five countries!