Mobile Showroom is on Tour!
The HydroWorx 300 underwater treadmill is traveling across the country to educate physical therapists, athletic trainers, physicians and even patients on "Why Water Worx." Equipped with a HydroWorx 300 with underwater treadmill and resistance jets, our Mobile Showroom demonstrates the benefits of aquatic therapy with advanced technology for post-surgical patients, those with chronic pain or arthritis, neurological and spine conditions, elite athletes and many more. The versatility of the product allows clinicians to treat all areas of the body in addition to utilizing the advanced technology to increase fitness levels, balance strength and flexibility.
Request a Stop at Your Facility>>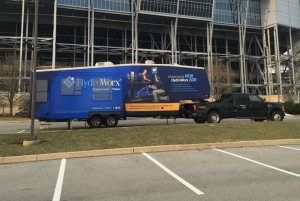 Aquatic therapy continues to grow in popularity as a safe complement or alternative to traditional land-based therapy that is suitable for children and adults of all ages and fitness levels. The soothing properties of water appeal to those in search of treatment that can heal the body while improving rehabilitation timeframes and fitness levels or reducing overall stress levels. The benefits of aquatic therapy include improving flexibility, balance and coordination as well as the ability to build muscle strength while enhancing aerobic capacity and assisting with gait and locomotion.
Compared to other forms of physical therapy, aquatic therapy results in a higher client compliance rate because there is often noticeably less pain throughout the recovery process. Another important advantage of aquatic therapy is that it can often begin before land-based therapy due to weight-bearing limitations or pain levels. For athletes looking to get back into competition, or busy professionals who want to recover from surgery as quickly as possible, this makes a water-based program the natural choice.
The HydroWorx 300 is the new benchmark in construction-free aquatic therapy. It is a self-contained system that is perfect for existing locations like a leased physical therapy clinic, therapy gym or small athletic training room. It is also a great addition for wellness programs.
We invite you to view our Mobile Showroom Experience Video! Here you will get a firsthand look at a typical live demonstration that is performed when the Mobile Showroom visits a facility. You will see how easily our Mobile Showroom enters and exits a facility as well as testimonials from a physical therapist, residents and patients who have experienced the demo.
We would be thrilled to visit your site and help educate your staff on the benefits of aquatic therapy along with inviting you to try out the HydroWorx 300 for yourself!
Request a Stop at Your Facility>> We look forward to seeing you!