Michael Johnson Performance Gets Clients Ready for Friday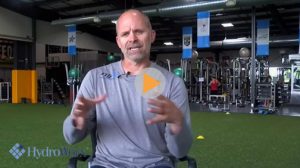 Training didn't start yesterday, last month or even last year. It began when the athletes first recognized they had the talent and determination to compete for their countries internationally. And when all eyes are on them starting August 5, what viewers will be watching is an effort that represents seasons of dedication. It's also a testament to the way that consultants like the performance specialists at Michael Johnson Performance (MJP) Center help athletes from all events get objective feedback to improve their skill sets.
A day in the life of the elite athlete varies, but one thing is clear: Every individual seeking triumph has to go beyond the metrics of strength, power and speed. They and their coaches must delve deeper into optimizing training and volume load without reducing quality. MJP's team assists clientele from the U.S., as well as faraway places like Eastern Europe, Brazil, China and the Caribbean, in understanding how different technologies can improve their readiness.
For instance, MJP regularly introduces athletes to the advantages of the HydroWorx ThermalPlunge and PolarPlunge pools. Ironically, some tough-as-nails athletes (especially those whose homes are close to the equator) balk at the idea of taking a chilly dip in a cold plunge pool, but when they see how advantageous it can be, they're all in. Similarly, running on the underwater treadmill may initially seem strange… until they get a taste of how much faster they can recover from hard workouts.
Opening minds. That's what competition is all about. As we forge ahead to August 5, we never know who will come out on top. However, many of these athletes that train with MJP, have discovered that:
Maximizing their potential by exposing themselves to new opportunities is essential to competing with other world-class athletes.
Replicating new training regimens for their next big competitions will require the most sophisticated tools, such as having a HydroWorx therapy pool onsite.
Flush runs are much gentler on the body when performed on an underwater treadmill without reducing intensity.
Extra training is as simple as periodization and plyometrics… but only when done correctly and safely. No one can afford an injury, especially at this stage of the game!
The schedule is going to be varied. Some athletes could race twice in a day; others could race on consecutive days. Getting the body prepped to respond should be one of every athlete's goals.
It's "go time" for the individuals and teams competing Aug 5 – 21, 2016 . Will your favorites hear their anthems played? We know we'll be rooting for some of our HydroWorx-trained talent!
Watch the video below to hear from Lance Walker, Global Performance Specialist and Lindsey Walker, International Performance Specialist, about training these athletes: