Meet with HydroWorx at LeadingAge Pennsylvania
With the LeadingAge Pennsylvania Annual Meeting around the corner, we personally wanted to let you know that HydroWorx will be exhibiting in Booth #123 this year!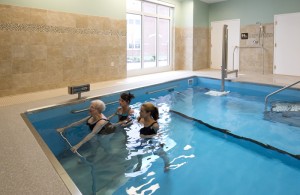 What is LeadingAge PA? "LeadingAge PA (formerly known as PANPHA) was founded to promote the interests of their members by enhancing their ability to provide quality services efficiently and effectively; and by representing their members through cooperative action. LeadingAge PA is committed to providing their membership with the techniques, data, information and education necessary to assist them in adapting and modifying their programs in response to ongoing changes in long term care."
The Annual Conference, held at the Hershey Lodge in Hershey, PA begins tomorrow, Wednesday, June 18th and continues on Thursday, June 19th. The exposition hall is open from 10am to 12:30pm on both days.  Be sure to stop by Booth #123 to meet with Colin Donlevy, East Coast Regional Sales Director, to learn how aquatic therapy can provide a wide range of benefits for your residents.
 "I started out in the HydroWorx at 1.1 mph at 10 minutes and 6 months later I'm up to 4.5 for 35 – 40 minutes.  Not only have I improved, but I have advanced far beyond what I had ever thought I could take my body to… I'm actually jogging for the first time in my life…. It's taken me further than I have ever dreamed that it could" – Kathy Ellis, user and rheumatoid arthritis sufferer 
Why Water Worx for Senior Living and Senior Services
Warm water therapy offers an effective way to combat falls and provide a valuable benefit to a facility's bottom line. Between additional revenue streams and increasing patients' length of independent living, CCRCs, SNFs, Assisted Living and Independent Living communities can experience impressive results. Learn why warm water therapy is essential for aging patients' health and your community's success.