Let's Meet Healthcare Excellence in Aquatics Award Nominee #3
Over these weeks during open voting, we are sharing the expanded story of each nominee of the 2015 Healthcare Excellence in Aquatics Award. The nominees are being introduced in alphabetical order.
Our third nominee is: Pullman Regional Hospital for the Innovative Therapy Program for a 3-year-old Patient Recovering from a Brain Tumor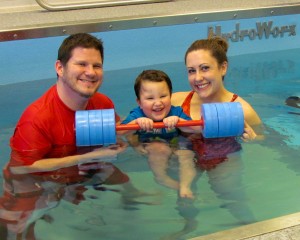 At the age of two, Jackson was admitted to the hospital and diagnosed with hydrocephalus and a brain tumor that needed to be removed.
As a result of the tumor location and the surgery procedures, Jackson had expressive language, voice and gross motor delays and difficulties.
Jackson began speech and physical therapy on land prior to the installation of the HydroWorx pool at Pullman Regional Hospital. He was making gradual gains but was beginning to plateau. Once the pool was installed in the early fall of 2014, Ambyr Henderson, MS, CCC-SLP and Tim Williams, PT, DPT, were inspired to try an innovative form of therapy by combining speech and physical therapy in the HydroWorx pool and the results were astounding!
Both Ambyr and Tim were pioneers in combining speech and physical therapy services within the pool just as they were with creating a potential protocol for this style of therapy. Some of the exercises for this protocol included:
For Physical Therapy: Exercises that focused on kicking techniques, using bent and straight knee, reciprocal arm movements, catching and throwing with a ball, floating for trunk stability, jumping on an elevated surface and more.
For Speech Therapy: Their target was to increase Jackson's volume of speech, increase the amount of words that he is producing and improve his articulation skills.
Ambyr and Tim saw noticeable results within the first two sessions of this combination therapy. For speech therapy, Jackson made the best progress in voice projections ever documented in his year of outpatient care.  For physical therapy, they saw the greatest change in amplitude of movement. The therapy within the pool provided an environment that challenged Jackson to speak louder, articulate more clearly, produce longer sentences, elicit stronger movements with greater control and reignite his engagement in therapy.
The installation of the HydroWorx therapy pool allowed Ambyr and Tim to try a unique way of providing therapy. Initially, they were unsure what Jackson's response was going to be, but after seeing such a dramatic improvement within the first session, they decided to continue this style of therapy and plan to expand the program to other pediatric patients!
From the second that Jackson saw the HydroWorx pool he was elated with a huge smile on his face. For the entire session, Jackson was engaged, animated and participated better than he had in while. As therapists, it has been an absolute joy to see all of the progress that Jackson has made in such a short time with introducing therapy in the pool. – Ambyr and Tim
Learn more about Jackson's story and watch him in action in the pool in the video below: