Learn Insights From the Hydrotherapy-Fueled Recovery of an Olympian – Webinar On-Demand
Many of us were glued to our television screens in August 2016. What we saw were profoundly talented athletes showcasing their abilities and skill sets for an international audience, not to mention their countries' honors. Yet we didn't see the behind-the-scenes fight to overcome injury that went into the recovery of countless athletes preparing to be ready for a possibly once in a lifetime opportunity. One of the Canada National Volleyball team members had an almost impossible task leading up to the trials.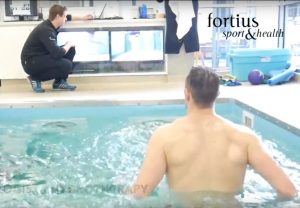 Gavin Schmitt, the captain of the team, was no stranger to injury. However, when he suffered repeated problems that required tibial surgery for an overuse stress fracture at the end of 2015, he and his coach were in a quandary. Could Schmitt safely return early enough in 2016 to help his team snag a spot at the Olympics if he had surgery in January? If they did obtain a spot, could Schmitt himself join his teammates on the world stage?
The answer was "maybe", and it centered on how Schmitt reacted to post-surgical intensive therapy sessions. That's where Nick Held and the team at British Columbia-based Fortius Sport & Health came into play. Held, the Director of Hydrotherapy, is a huge proponent of using aquatic therapy during every phase of rehab. Held believed that with proper exercises and a well-considered plan, Schmitt could get back to playing volleyball at an intense, elite level.
The good news was that Held was correct. The better news is that Held has been willing to share the case study of this rehab with all of us during an hour-long webinar, "Use of Hydrotherapy in Stress Fracture Recovery of Canada National Volleyball Team Captain." The webinar, which originally aired live in December 2016, attracted audience members from as far away as New Zealand. Now, it's free for you to enjoy on-demand as part of the HydroWorx library.
A Look at Insider Tips and Helpful Hydrotherapy Hints
During the webinar, Held emphasizes his belief in water immersion to help athletes. In his experience, when held in conjunction with physiotherapy, massage therapy and other therapy forms, hydrotherapy can be a safe, practical way to build strength and endurance. In the case of Schmitt, his orthopedic surgeon played a huge role in determining when water therapy could begin, and how it was progressing.
As Held explains, his view of their facility's HydroWorx therapy pool is more than just a vehicle for walking and running. In fact, the pool offers plenty of other applications, such as instant biofeedback thanks to integrated video cameras that project real-time, simultaneous images of two angles.
During Schmitt's time at Fortius, he was led through many exercises which are illustrated with videos during the webinar. Some of the protocols shared by Held included:
Double leg squats, single leg squats and lateral squats (with and without the help of a Theraband)
Standard, reverse, transition and walking lunges
Single leg balance (especially against the jets)
High knee progressions
Jumping progressions
By increasing the speed of the treadmill, the depth of the water, the intensity of the resistance jets and the positioning of Schmitt's hands, Held made certain that each exercise retrained Schmitt for his sport. Volleyball is both anaerobic and aerobic, and Held wanted Schmitt to be ready to leap, land (sometimes awkwardly) on one leg, and move without discomfort or re-injury.
Not Just Elite Athletes Can Benefit From Held's Expertise
All of Held's advice is applicable for any physical therapy professional who is working with clients in a warm water therapy pool. In fact, many questions at the end of the webinar were general, and not specific to elite athletes, such as:
How much is the rehab process a collaborative effort between the rehab team and surgeons?
How might you monitor postural alignment (underwater) without video monitors?
Do you recommend any other change-of-direction style movements or exercises?
Do you find patient compliance to be better with hydrotherapy programs than with land-based programs?
What other pool equipment do you use?
Learn the answers to these and other questions within an hour. Get free access to Held's video on-demand today!