Learn How to Help Pulmonary Rehab Patients With Aquatics
Respiratory illnesses including interstitial lung disease, idiopathic pulmonary fibrosis and COPD are some of the most common ailments facing Americans. Statistics indicate that as many as 25 million people across the nation suffer from pulmonary problems, and COPD is now listed as the third leading cause of death in the United States.
Given these facts, more patients are coming to physical therapy for or with pulmonary difficulties. Yet traditional rehabilitation exercises and techniques can be challenging for individuals who struggle to catch their breath on land. For Nell Resnick, PTA, ATRIC, head aquatic therapist at Florida-based Clear Choice Health Care's Port Charlotte Rehab Center, the answer to this problem is clear: aquatic therapy.
Resnick shares her insights into this burgeoning topic in a comprehensive one-hour webinar, "Strengthening Pulmonary Rehab With Aquatic Therapy".
If you have ever been interested in helping this type of niche patient population using proven aquatic mechanisms, you can view the event on demand for free here.
What Makes Pulmonary Rehab a Hot Topic?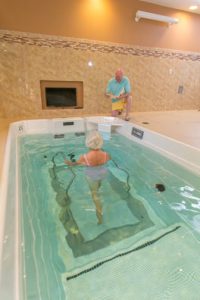 Pulmonary rehab is a prevalent topic of discussion because of the progressive deconditioning faced by patients with chronic respiratory illnesses. For example, most face regular bouts of shortness of breath. This leads to reduced activity and a sedentary lifestyle, which then leads to decreased strength and limited mobility. In order to reverse this deconditioning, exercise is crucial, but it can be painful, difficult and even frightening in land-based formats.
Despite the difficulties, exercising muscles is crucial for a natural and robust O2/CO2 exchange to foster improved muscular responsiveness and abilities. The benefits of doing so include better knowledge of how to properly breathe, improved coping mechanisms, increased endurance, decreased minimal activity fatigue, improved daily activity logs, improved O2/CO2 exchanges and decreased amounts of anxiety.
Following the "knowledge is power" motto, Resnick recommends tackling pulmonary rehab education with patients early in the relationship and before aquatic therapy begins. She discusses all the issues at hand and performs pulmonary function tests. Her patients have the benefit of understanding why they are being introduced to hydrotherapy, and how it can have a positive effect on not only the advantages listed above but also their cough and muscle clearance, digestion, sleep apnea and much more.
Sick Lungs Don't Show… But They Do Affect Patients
Unless a pulmonary rehab patient has a visible oxygen tank, it can be hard to see that he or she has "sick" lungs. They simply don't show. However, as every person with a respiratory illness knows, they make their presence known in many ways.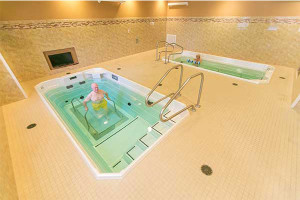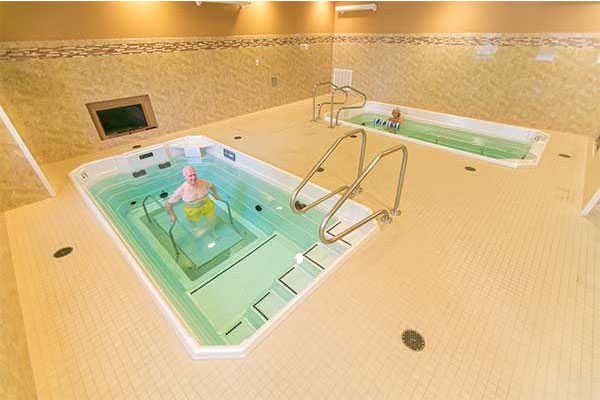 As Resnick describes during her webinar, she always begins patient progressions on land to monitor clients' abilities. She also makes note of any co-morbidities, such as chronic back pain or obesity, which can make land-based training almost intolerable.
When she and her patients have a basic understanding of their limitations and abilities, she introduces them to her facility's HydroWorx pool with an underwater treadmill. It's a true breakthrough moment for many patients who never realized the power of an aquatic environment.
Common Aquatic Pulmonary Rehab Patient Myths Vanquished
Resnick addresses many common aquatic pulmonary rehab patient myths. These include:
Misconception #1: Water exercise programs cannot improve functional testing for respiratory illness patients when compared to land. Actually, water exercise has been found to have similar test results, on par with land-based exercises and progressions.
Misconception #2: Aquatics and COPD don't mix. As long as the patient is submerged to his or her chest level, the land effects of COPD can be lessened thanks to the natural properties of water like hydrostatic pressure. Hydrostatic pressure strengthens the diaphragm, improving the musculature in the chest area surrounding the lungs.
Misconception #3: COPD patients can't tolerate a warm-water therapy pool. As long as the pool remains near 88 degrees Fahrenheit, the pool is acceptable for treatment of those with pulmonary issues.
Misconception #4: Land-based exercises don't translate into the water. From Ai Chi, which uses the concepts of T'ai Chi, Shiatsu and Qigong, to a vigorous walking program, commonly-used land-based exercises are perfectly suitable for the water. The key is for the physical therapist to use creativity and innovation.
Misconception #5: Oxygen cannot be used in the pool. Resnick shares her specific techniques for making sure patients can safely utilize their oxygen while they work out in the water.
Interested in getting honest, reliable answers on other myths of working with pulmonary patients? Download the on-demand video today from the HydroWorx webinar library. In addition to already-mentioned features of the event, Resnick thoughtfully talks about some incredible case studies that showcase just how life-changing aquatics can be for pulmonary rehab clients.
Looking for Additional Insights? Check Out the Q&A!
At the conclusion of "Strengthening Pulmonary Rehab With Aquatic Therapy", Resnick answers compelling questions about her own experiences. While you watch, you'll discover the answers to such inquiries as:
How long is a typical aquatic therapy session for COPD patients?
At what point would you introduce aquatic therapy? At the same time as land therapy? Would you alternative between the two?
Are COPD patients able to tolerate full-body pool immersion?
Do you take special precautions for patients with a chemical sensitivity?
Should you normally be in the pool with your pulmonary rehab patients?
How does the degree of immersion affect treatment outcomes for this population?
What billing codes do you use for this type of aquatic therapy?
What functional outcome measures do you use for pool patients?
What is your vital capacity cutoff for aquatic therapy participation?
Improve your skill sets and knowledge base and help your patients with chronic respiratory illnesses through the power of aquatic therapy! Watch "Strengthening Pulmonary Rehab With Aquatic Therapy" on demand now.