Join us for an Exclusive After Hours Event at NATA
Will you be in Indianapolis, IN for the National Athletic Trainer's Association's Annual Conference next week? If so, be sure join us in booth #1131 for drinks and appetizers and a discussion on Why Water Worx for Pro, Collegiate & High School Facilities!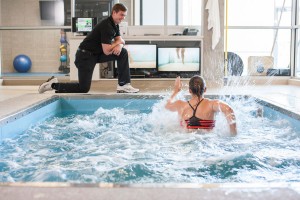 Have you wondered how schools and sports teams of all sizes and available funding are able to implement hydrotherapy into their sports medicine program? Join us for an informal reception at NATA in the HydroWorx booth #1131 to learn best practices on everything from facility design to aquatic protocols and more! The following HydroWorx customers will be sharing their experiences with hydrotherapy implementation and use:
Doug Boersma, Assistant Athletic Director at Purdue University
Ryan Galloy, Director of Sports Medicine at Butler University
Nick Held, Kinesiologist, Strength & Conditioning Coach at Fortius Sport and Health
This exclusive after-hours event will take place on Thursday, June 26th from 5:15- 6:30pm in HydroWorx Booth #1131.
There are only a few spots left so please RSVP to Michele Reber at mreber@www.hydroworx.com today! This program is for Certified Athletic Trainers only.
We are looking forward to meeting you there!