Introducing the Second Nominee for the 2015 Excellence in Aquatics Award
"You have a left leg closed fracture, shaft fracture and compartment syndrome."  It's the news no football player wants to hear, especially a freshman lineman.  Yet those were the unfortunate results after an 18-year-old University of Tennessee first-year student was involved in a very serious motor vehicle accident.  Perhaps worst of all for the athlete who was so accustomed to regular, intense physical activity, doctors told him he would likely have to take a full year off for total recovery.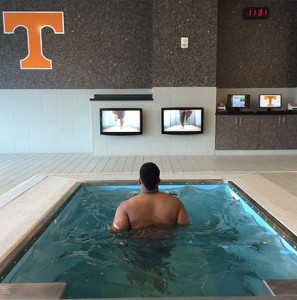 Thankfully, he had a team of supportive athletic training professionals around him who were well-versed in progressive, water-based rehab techniques.  They were also determined to help him use all the amenities they had at their disposal to speed up his journey from "injured" to "active" status.
At 6'4" and 379 pounds, the player was unable to comfortably perform weight-bearing land-based therapies, even after 10+ weeks of recovery post-surgeries.  Yet when he began getting into the team's HydroWorx pool several times per week, he could move much more freely.  At first, he worked in the therapy pool with a water depth as high as possible; this allowed his body to slowly adjust to the natural effects of gravity by offsetting his weight.  Between 11 and 26 weeks post-surgery, the water level was gradually adjusted to lower depths, giving his body the opportunity to naturally make the transition to being able to at least partially bear his weight.
At the beginning of his aquatic therapy, his athletic trainers were surprised to find that he progressed to jogging lightly on the underwater treadmill very early without much discomfort.  Over time, he could even sprint, hop and bound in the water.  By week 38, 14 weeks earlier than originally expected, he was practicing for the University of Tennessee's spring season!  Not only did he participate fully in all of the spring practices March through April 2015, but he experienced minimal restrictions.
This freshman lineman continues to build his strength, improve his gait and make his return to pre-accident form.  By reducing his projected recovery by almost 27 percent using advanced methodologies including the HydroWorx therapy pool, his trainers were able to safely get him back on the field and in the game.
To vote for this heartening University of Tennessee story for our 2015 Excellence in Aquatics Award, visit https://ww2.hydroworx.com/vote-2015-smed.  Remember that one vote is allowed per day!
Watch for our third – and final – comeback story next week!