An Interview with Dr. Bruce Becker, an Aquatic Textbook Author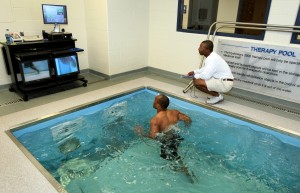 A new textbook was recently published, titled "The Use of Aquatics in Orthopedic and Sports Medicine Rehabilitation and Physical Conditioning," written by leaders in the sport & exercise and orthopedic industries. This textbook represents a new generation of rehabilitation that is informative enough to be injury and sports specific. Dr. Kevin E. Wilk, PT, DPT, FAPTA and Dr. David M. Joyner, MD, FACS, along with noted domestic and international leaders in the field, explore the aquatic techniques and principles detailed in the work, while presenting this scientifically based material in an understandable and user-friendly format. This textbook includes scientifically-based information on the use and application of aquatic methodologies in both rehabilitation and physical conditioning appropriate for everyone from the general population to the elite athlete. We anticipate that this book will help advance the use and adoption of aquatic therapy globally.
To offer an insider's perspective on the new, groundbreaking aquatic textbook, "The Use of Aquatics in Orthopedic and Sports Medicine Rehabilitation and Physical Conditioning," written by leaders in the sport & exercise and orthopedic industries; we are continuing to interview some of the chapter authors to learn what makes this textbook a must read for any rehabilitation clinician. For our fourth interview, we interviewed Dr. Bruce Becker, MD, MS, FACSM, Director National Aquatics & Sports Medicine Institute and Clinical Professor at the University Of Washington School Of Medicine.  Becker is the author of Chapter 1, "Aquatic Therapy: History, Theory, and Application."
Here is what he has to say!
Why was it important for you to be a part of this new textbook on aquatics?
Aquatic therapy has really been moving forward as an important therapeutic technique over the past 20 years, both within the USA and internationally. The first edition of Comprehensive Aquatic Therapy was published in 1997, and it was quite successful, with translations into Portuguese and German. Since that first edition, there have been many advances in the field and the second edition in 2004 reflected many of those advances. The rapid growth of the field over the past 10 years has seen emergence of yet more applications, research studies and evidence-based practices, and I felt that a 3rd edition was timely. My involvement with the field has brought me into a leadership role so the role of spearheading this textbook seemed both logical and appropriate.
What effect do you hope this textbook might have on the field of orthopedics & sports medicine rehabilitation?
Despite the increasing recognition of the unique and valuable use of aquatic therapy in medicine as well as sports training, it remains underutilized, and there are many therapists who lack the training and experience that would create better client care. The chapter authors who have contributed to this edition are the leading experts in their various areas, so readers are truly exposed to the current state of the aquatic arts. Through using this textbook, it is our hope that the field will see broader use of evidence-based aquatic practices, better outcomes and more knowledgeable practitioners.
What do you intend for readers to learn from this book and the chapter you wrote?
My hope is that readers will understand the current state of the art in aquatic therapy, with a deeper understanding of the amazing clinical potential of the techniques across a huge range of health care issues. My chapters really deal with the underlying physiologic changes that make aquatic therapy uniquely applicable to such a broad range of clinical problems. There has been a great deal of research supporting these benefits over the past 15 years and my chapters refer to many of these important studies, making a truly scientific foundation for clinical practice.
When did you first learn about aquatic therapy and witness the benefits from using it?
I was personally involved in aquatic therapy when I had polio at age 4. I was in the therapy pool daily for nearly 6 months. As a physician, I was one of the team physicians for the Nike-sponsored Olympic development program Athletics West, in Eugene Oregon. We used the aquatic environment for cross-training, and regularly for injury rehabilitation. The speed with which these athletes recovered was amazing to me and I began using the aquatic environment for general clinical rehabilitation in patients with fractures, spinal cord injury and other neurologic diseases with great success. This was in the early 80's, well before HydroWorx was founded. And I have been using it ever since!
Do you have a brief case study or story that demonstrates the healing power of water? Too many to mention
How do you see the use of aquatics changing rehab in the future?
Once therapists have had exposure to the clinical benefits that evidence-based aquatic therapy can provide, they are hooked, and seek ways to use these techniques in a broader range of problems. 
Excerpt from Chapter 1:
"Since the earliest recorded history, water has been believed to promote healing and has therefore been widely used in the management of medical ailments. Through observation and centuries of trial and error and scientific methodology, traditions of healing through aquatic treatments have evolved. This review will detail the current scientific understanding of the profound physiologic changes that occur during aquatic immersion. Aquatic immersion has profound biologic effects, extending across essentially all homeostatic systems. These effects are both immediate and delayed, and they allow water to be used with therapeutic efficacy for a great variety of rehabilitative problems. Aquatic therapies are beneficial in the management of patients with musculoskeletal problems, neurologic problems, cardiopulmonary pathology, and other conditions. In addition, the margin of therapeutic safety is wider than that of almost any other treatment milieu. Knowledge of these biological effects can aid the skilled clinicians creating an optimal treatment plan through appropriate modification of aquatic activities, immersion temperatures, and treatment duration."
Order your copy of this new textbook today!
Upcoming Free Webinar: Sign Up Today
Join us on December 18th at 1:00pm EST for the online webinar,"Use of Aquatics for Recovery and Regeneration" by Lance Walker, Director of Performance and Brian Abadie, Performance Specialist at Michael Johnson Performance. In this webinar, the presenters will share ways to reduce soreness and enhance muscle recovery in your athletes using water therapy.