Interested in Creating a Senior Aquatics Program? Access this webinar on-demand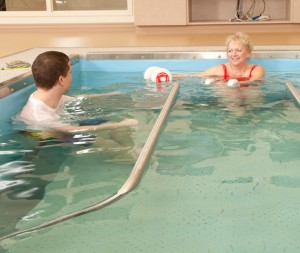 On February 24, 2015, we hosted a webinar titled, "Road Map to Creating a Successful Aquatics Program for Seniors." In this webinar, Rachel McDermott, PTA, former Director of Rehabilitation and Paula Osterberger, Wellness Director at Stonehill Care Center in Dubuque, IA discussed their successes and lessons learned from starting an aquatic therapy program in their senior living wellness and therapy center.
Stonehill Care Center is a fully accredited not-for-profit residential and long-term facility, which is a part of Stonehill Franciscan Services in Dubuque, IA. The CCRC underwent a major expansion in 2013 which included therapy and wellness centers, as well as the installation of a high-tech aquatic therapy pool.
In the webinar, Rachel reviewed some of the benefits that they focused on when gaining support from all parties for putting a highly functional therapy pool into the new facility:
Increasing RUG scores by moving patients from very high to ultra high
Increasing therapy minutes
Providing functional therapy for those which were max assist
Piggybacking OT in the therapy pool to increase ADL minutes
Returning patients back to their homes more quickly
She also discussed the statistics and great results that they saw after the therapy pool was installed, including becoming the provider of choice in town. The results were even more drastic than they could have anticipated. They began an outpatient program to be able to accommodate the many referrals they were getting for pre- and post-op joint replacements.
Rachel provided many wonderful details during the webinar including some revenue statistics, such as bringing in $300,000 in additional revenue in the first 5 months thanks to the therapy pool. They are continually coming up with new ways to fill the pool all day long. She had great ideas for some additional ways to earn revenue from the pool, if needed:
Opening the pool for the community to use during off-hours
Renting the pool to outside facilities who can benefit from the pool
Renting the pool for community athletes and teams
Partnering with other local assistive, independent living facilities to use the pool for skilled services needed in return
Teaming up with large businesses for wellness programs
Creating your own wellness program for staff
Typically, not everyone is on-board when you start looking into adding an aquatic therapy pool, but there are some ways to convince them (including therapy staff) how beneficial it can be. Rachel provides many techniques for warming staff up to the idea.
Paula also discusses how the wellness program integrates with the therapy program. Their wellness program has a focus on changing the perception of aging. She offers some great marketing tips on how to get the community excited about a new therapy pool.
Watch the webinar on-demand to find out how the team at Stonehill created a successful aquatics program>>
Stonehill Franciscan Services (SFS) is a faith-based, not-for-profit 501(c)(3) quality retirement and care community serving older adults in and around Dubuque, Iowa. In 1978, the new state-of-the-art 250-bed Stonehill Care Center was opened. In 1999, Assisi Village was constructed adding Independent Living to the campus, and in 2009, skilled-nursing and therapy began. In 2013, a major expansion was completed adding four households including a Memory Care Center as well as world-class Therapy and Wellness Centers. Current services provided by the continuing care retirement community (CCRC) include: a Wellness Center; Independent Living Villas and Apartments; Assisted Living Apartments; a Residential Care Facility; a Long-Term Care Facility; a Skilled Nursing Facility; an In-Patient and Out-Patient Rehabilitation Program with Physical, Occupational, Speech and Massage Therapy.