Indiana Welcomes A New State-Of-The-Art Facility
Recently, Bargersville, Indiana became home to a brand new, state-of-the-art medical building. According to the news release on July 29th, 'Community Health Network and Johnson Memorial Health opened the doors to a new facility called the Stones Crossing Health Pavilion. The 70,000 square-foot building is open to both primary and specialty care providers, as well as numerous outpatient services.
"Our Stones Crossing pavilion brings an expansive menu of convenient healthcare services to families in the Bargersville and Center Grove communities," said Jon Fohrer, CEO of ambulatory services at Community. "Our collaboration with Johnson Memorial on this project has allowed us to gather many wonderful healthcare resources under one roof, giving patients options and access to care for their entire family."
The amount of services that are offered under this one roof is quite impressive and will certainly make a positive impact in the community. Some of the services offered from both specialty and primary care providers include: family medicine care, pediatric care, orthopedic specialty care, women's health, general surgical care and more!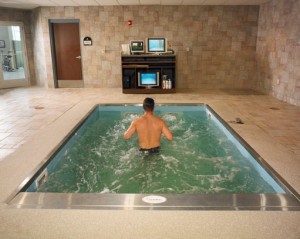 The remaining outpatient services offered within the Stones Crossing Health Pavilion are slated to open today! Some of these services include a state-of-the-art imaging center with MRI, CT, mammography, breast MRI, x-ray and bone-density testing. Additionally, there is a Physical Therapy and Rehab center that will include physical, occupational and speech therapy for adults and children.
Their services even cater to elite athletes. They have a specialized sports injury treatment and performance program created that includes use of their HydroWorx 2000 Series aquatic therapy pool. Their aquatic exercise and therapy pool is one of the only ones in that area, which will help rehab and train many individuals.
Just when you thought this facility couldn't get any better,  it does. They have indoor batting/golf cages, indoor basketball court and tennis/volleyball courts available for individuals recovering from sports injuries, or to enhance athletic performance.
The opportunities and services that this facility offers is nearly unlimited. This is a very exciting addition in this area of Indiana and we wish them the best of luck!
"Johnson Memorial Health is pleased to partner with Community Health Network in improving the access to care to the citizens of Johnson County," said Johnson Memorial Health President and CEO Larry Heydon. "We look forward to the community benefiting from the convenient and broad scope of services provided in this spectacular building."
Interested in find out more about the benefits of warm water therapy? Download this Tip Sheet: "5 Ways Aquatic Therapy is Impacting Rehab today!