In the Presence of True Heroes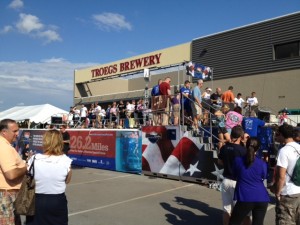 We, at HydroWorx, had the privilege of being in the presence of some true heroes on Sunday.  The timing is fitting in light of today's anniversary.
In case you've missed our many blog posts or haven't heard it on the news, we held the First-Ever HydroWorx Underwater Marathon on Sunday.  Although an underwater marathon at a brewery sounds like a lot of fun on a perfectly sunny day (and believe us, it was), we didn't do it for the fun. The concept for the Underwater Marathon was born out of desire to raise money for The Eagle Fund: to help get our special forces the same level of care and rehabilitation that our nation's pro athletes receive.  The cool thing is that this care often involves use of a HydroWorx 2000 series pool at Athlete's Performance (which is where this event comes full circle!).
So, on Sunday, almost a dozen wounded warriors with their families, the entire HydroWorx staff, 25  partners and sponsors, over 200 runners and lots of spectators came together at Troegs Brewery in Hershey: maybe for some fun and some beer, but more importantly to support these amazing heroes who have sacrificed so much for our freedom.  Not only have they made these selfless sacrifices, they are working hard to get back to doing what they love most – serving this country.  Only when you get to hear their stories, see their scars, and feel their determination do you truly understand a true hero.
Take for instance, Gus.  Gus comes from the AirForce, Para-Rescue. He recently took part in the Eagle Fund to recover from extensive injuries including numerous broken bones and a torn knee. Walking again is impressive. Running a full marathon on an underwater treadmill is a feat only two others attempted. His true goal though is to get back to active duty as quickly as possible.  He is hoping to hear from the AirForce in the next few weeks that he is approved to jump again  – that is heroic.
Then there is Seth. Seth was told by multiple doctors that he would never walk again, after being shot multiple times and barely making it out of a vehicle that was blown up by a pressure plate IED.  Typical rehabilitation would have gotten him to a place where he would be "comfortable" trying to integrate back into society, most likely in a wheelchair, labeled as a Spinal Cord Injury patient.  And honestly, we would have all called him a hero for sacrificing so much for his country.  But Seth is not driven by a desire to be called a hero – that he's already accomplished.  He's driven by a desire to get back to the work he loves and serving this country in order to preserve our freedom. So, when given the opportunity to be a part of the Eagle Fund and strive for a full recovery, he took it.  Now, Seth not only walks as if nothing ever happened, he is ready to return to duty shortly.
These are just two examples of insane heroism and why we were so passionate about putting on this event.
Today we remember those that lost their lives on that horrible day 11 years ago, we remember those that lost their lives defending our freedom after that day and we thank every single person that has served and sacrificed.