Improving Player Match and Training Availability with Hydrotherapy
The following blog post has been summarized from the recent article, "Improving Player Match and Training Availability," for fcbusiness High Performance Guide in the United Kingdom and published in August 2016 online at fcbusiness.co.uk.
Hydrotherapy is a key component in the recovery and rehabilitation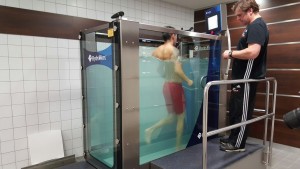 programs of footballers in the United Kingdom. In this article, three clubs who currently use HydroWorx pools were interviewed about the improved outcomes they are seeing in their athletes.
Dr. Mark Gillett, Director of Performance for West Bromwich Albion, was asked if he attributes his team having one of the lowest re-injury rates in the Premier League to the use of hydrotherapy to aid recovery and rehabilitation. Dr. Gillett says, "Very much so. We place a big emphasis as a club on functional strength and recovery. The HydroWorx is a big component of our recovery strategy and that allows us to implement the strength work that is crucial to injury prevention at the appropriate times of the week."
Bayer 04 Leverkusen Sports Scientist and Head of Rehabilitation Carsten Redemacher echoed how important the underwater treadmill is in the daily use of the hydrotherapy area. "The HydroWorx 300 is an important part in nearly every stage of our rehabilitation process beginning with the activation of the metabolism and promotion/improvement of the healing process, the re-establishment of gait and movement patterns, over conditioning of the cardiac system, right up to physical therapy and massage."
Steve Hard, First Team Physiotherapist for AFC Bournemouth, spoke of how hydrotherapy aided in the recovery process for Callum Wilson who suffered severe damage to his anterior cruciate ligament. Steve said, "In the early stage it was good for his mobility and helping to reduce swelling. It also allowed us to get him running earlier due to the reduced bodyweight allowing him to become accustomed to ground contact and running mechanics before going on the field."
These clubs use HydroWorx for rehabilitation, conditioning and during the recovery process.
To read the complete interview with each club click here.