Impacting Lives at Neuroworx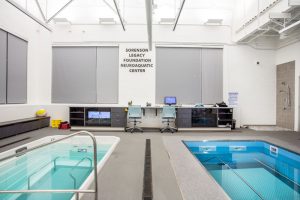 For the past 10 years, Neuroworx (a nonprofit, community-based, outpatient physical therapy clinic focusing on neurological rehabilitation) has been grabbing headlines with their unique business model and amazing stories of helping and healing. These life-changing stories seem to amass for Neuroworx as quickly as their clientele.
When we visited with them earlier this year, therapists Rick Reigle and Matt Hanson shared with us a few meaningful case studies, mostly around their younger patient population, in which aquatic therapy has been a key component of patient care.
"We see the biggest aquatic outcomes with our pediatric population with the kids re-learning to walk," says Rick. "They have the freedom to move and explore their limits of balance in a very safe environment."
"When we're doing land therapy, this population will take all the support given them and sometimes they'll just collapse to the ground, not trusting their bodies to stay upright. But when we get them in the water, 75-80% buoyant, the hydrostatic pressure just keeps them up and they stand and explore their abilities. After they begin to ambulate in the pool, we see a huge carry-over onto land. It's great."
Back on Track
Rick also told us about a recent experience with a 14-month old who had experienced a fall.
"Just recently, a former Neuroworx employee brought her 14-month old son in for therapy. He was born with hypoplastic left heart syndrome. He had been up and walking but then took a pretty hard fall. After that, he just refused to walk.
"We got him in the pool. After a few minutes he was standing in the water, then he started cruising around. He got his confidence back! Later that night his mom sent us a video of him walking around the house. It was awesome! It's hard to say what the ramifications of his injury could have been if he had remained non-mobile."
Spica Cast Immobility
Rick continues: "On a personal note, my three-year-old nephew broke his leg and was in a Spica cast for about eight weeks. We had him in the HydroWorx pool the day he got the cast off. He was very, very hesitant and very fearful to put any weight on that leg. He had been immobile for eight weeks!
It took him a while to warm up in the pool but by the end of the session he was walking, using the treadmill and making great progress. Our ability to adjust the pool floor up and down to easily regulate the height of the water for him was key. The treadmill, starting at a very low.5 mph also allowed him to build confidence at his own pace."
Duchenne Muscular Dystrophy
Duchenne Muscular Dystrophy (DMD) is one of nine types of MD and is caused by the absence of dystrophin protein which holds the skeletal and heart muscles intact. Patients lose muscle function rapidly. Because of this, those who suffer from the disease usually lose the ability to walk by 12-14 years of age and pass away generally into their early 20's.
Says Rick: "Getting them in the water is really important—it allows them to have a cardio workout, move freely and even have the freedom to play without intense physical demands.  Because of the progressive nature of the disease, we don't see great outcomes with improvement, but the water and the underwater treadmill give them an outlet to move. We're hoping that the cardio workouts extend and enhance their lives."
Skiing Phenom
Neuroworx DPT Matt Hanson cited a 30-year old patient who, last August, suffered a T-12 thoracic spinal cord injury when he flipped his mountain bike during a trail ride. This patient previously worked as a ski instructor and is an avid outdoorsman.
Matt says, "He completed rehab and, when he hadn't progressed as far as he thought he could, he came to us. He had an iron will to get back to his job.
"We utilized quite a bit of aquatic therapy early on with this individual. He was able to walk but was very weak on one side, with lots of spasticity. His tone was quite limiting. The pool was a great option for him because his knee and ankle were unstable. We keep the water temperature warmer than typical pools to avoid cold-induced muscle stiffness. The buoyancy of the water also helps with balance, lumbar stabilization, mobility and personal confidence."
"Because this patient was a competitive skier and quite fit, we pushed him pretty hard. The warm water temperatures helped with the spasticity and tone. Soon we got him to the point of running in the water, which brought his fitness level back to where it needed to be. With all of his limitations, doing that on land would have been too hard, too slow, too tedious. The pool with underwater treadmill was the perfect answer."
Thank you to all of our clients who have dedicated their lives to helping others heal through the power of water! See how HydroWorx tools have assisted others in pediatric OT, PT and speech therapy>>