Impact Foot Injury Case Study from St. George's Park
Perform, part of Spire Healthcare at St. George's Park, as we learned in a previous post, is a sports medicine, rehabilitation and performance-centered service that also opens its doors to individuals in the area who have a need for physical therapy. This particular case study is about a Senior England football player (American Soccer) who suffered a serious injury to the foot. This athlete suffered an impact injury to his foot during a premier league game with his club. He left the game on crutches, unable to bear any weight, but did not suffer any ligament tears or bone fractures. He was experiencing loss of mobility and a great deal of inflammation and pain.
In order to regain function fairly quickly, the athlete was treated in the HydroWorx 2000 Series pool located within Perform at St. George's Park. The benefits of water-based therapy create hydrostatic pressure, encouraging a muscle pumping action which can alleviate pain and aid mobility of joints. The rehabilitation focused on working the athlete in all planes (frontal/sagittal/transverse) both statically and then progressing to dynamic plyometric work on the underwater treadmill.
Additionally, he was able to maintain his cardiovascular fitness. This premier league club athletic was able to resume full training after 3 days of being non-weight bearing. The underwater treadmill played an important role in the off-loading, while still ensuring that he maintained function and cardiovascular work during the short international training camp.
Read the full case study here. (at the bottom of the page)
Free Hydrotherapy Course at St. George's Park. Register Today! (Limited Space Available.)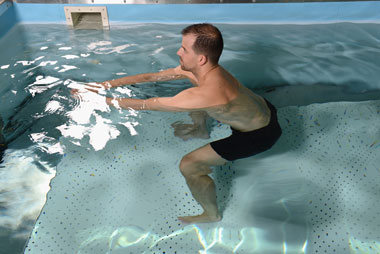 An Introduction to HydroWorx for the Sports Injury Rehabilitation Professional, from the Perspective of a Premier League PhysioTherapist and the Professionals at St. George's Park.  Join us Monday, June 24, 2013 from 9:00-14:00 at St. George's Park National Training Centre.
Learn how Premier League clubs' elite physiotherapists and performance coaches utilize advanced hydrotherapy to keep their athletes in shape and on the pitch. The purpose of this course is to offer an introduction to the value of aquatic therapy for performance and rehabilitation with HydroWorx products. Sports injury rehabilitation professionals will learn how to safely reduce the recovery time of their athletes and maintain cardiovascular fitness while injured.  They will also learn ways to prevent injury and enhance recovery through advanced aquatic technology.
Limited space is available, be sure to register today!