Understanding Your Patient: Rehabbing Athletes
The following blog post has been summarized from the recent article published in the November 2013 Issue of IMPACT titled, "Rehabilitating Athletes: Know Your Audience," by Jeffrey Kallberg, PT.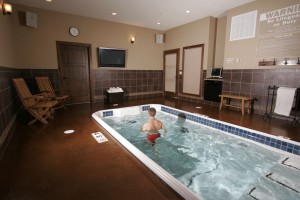 Unfortunately, injuries are inevitable for athletes. From ankle sprains & sore muscle to broken bones, torn ligaments and stress fractures, clinicans have seen it all. Kallberg, a PT himself, states that because athletes are unique- they do not want to "sit on the sidelines"- those who are caring for them must understand how to best serve them. It is important to recognize where they are coming from, while balancing the professional duties that come with being a physical therapist or athletic trainer. Often this requires modifying the way treatments are handled for athletes who require consistent mental and physical challenges to feel healthy. It is not an easy job, that's for sure, but it is especially effective when the PT "accepts the mindset of the runner who is determined to run despite his or her recent ACL surgery."
Kallberg, President and Co-founder of ACCUA Advanced Fitness Training in Minnesota, shares how they have been able to embrace the challenge of treating athletes at their clinic. At ACCUA, they chose to embrace creativity over rigidity. One of the ways they implement their creativity is through the use of their HydroWorx aquatic therapy pool.
"We have made significant gains at our facility assisting athletes, most notably through the use of aquatic therapies and exercises."
Tips and Advice for Rehabilitating Athletes:
Show empathy, but do not make assumptions about the patient. Athletes are competitive by nature, and their sense of scale is somewhat different than the average person's, therefore it is essential to outline your (the PT's) expectations in detail, being very specific and objective. Also, remember to remind the athlete that you know it will not always be easy, but that you have alternatives that will provide limited doses of stress to the injured area and will not create any additional issues. "For us, this has been possible using an advanced variable-depth pool with embedded underwater treadmill and resistance jets."
Offer athletes a well-rounded menu of services. By having many options and unique rehabilitation tools, it allows for total customization. Each patient is then able to recover in a way that is most suitable to their needs, making the entire rehabilitation process more rewarding. Athletes typically have a superior level of conditioning, therefore PTs do not have to watch over them at every second, however they do need to instruct their patient on how they can still exercise without reinjuring themselves. One option is instructing the athletes to run on the underwater treadmill for targeted strength, gait and stride training for about 20 to 30 minutes. This allows the athletes to train in a low-impact environment that still provides a physical challenge.
A great side effect of this type of water-based exercise is that the water's hydrostatic properties leave the athlete feeling refreshed and recharged post-rehabilitation. Athletes appreciate the fact that we can adapt to the desire to augment their training safely.
Be open to a little 'give and take' with an athlete who is determined to continue activity despite risking further injury. When a specific tactic/restriction is established, the athlete is more likely to be compliant with the physician's restrictions, when they understand the benefits it will have on their progress. For example, Kallberg says they do not give their athletes the freedom to return to land-based activity until they promise to stick to a plan that is determined around their needs.
Show support and encouragement whenever possible. For example, ACCUA Advanced Fitness Training sponsors a local running team, which includes free services for any of them when injured. In turn, this creates positive feedback and community support.
Recovery is just as important as the entire rehabilitation process. An effective recovery program can help prevent injuries down the road.
On December 18th from 1-2pm EST, Lance Walker, PT, Director of Performance and Brian Abadie, Performance Specialist at Michael Johnson Performance, will be presenting the free online webinar, "Use of Aquatics for Recovery and Regeneration." In this webinar, the presenters will share ways to reduce soreness and enhance muscle recovery in your athletes using water therapy.