HydroWorx with NFL and Collegiate Players Webinar Recap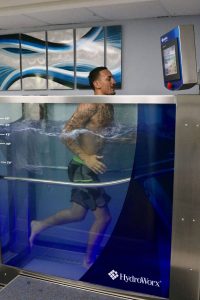 As part of our Spring Sports Medicine CEU Training Program, we had the pleasure of working with Collin Francis who is an assistant athletic trainer with the Baltimore Ravens. Collin presented on using hydrotherapy to treat collegiate and professional athletes. The webinar was packed with good information.
Here are some points Collin suggested you consider when utilizing aquatic therapy:
Before putting an athlete in the water ensure that you know all the safety controls.
Ensure that you have emergency procedures and policies in place.
Before starting any treatment on an athlete, ensure that you know the athlete's health history.
Collin also discussed a few items to keep in mind when treating an athlete and setting up the treatment space:
Work with other healthcare professionals to ensure that the athlete is cleared for recovery and return to sport rehab programs.
How the principles of water are at play when the athlete is in the water.
Help athletes who are afraid or reluctant to start the progression toward land.
Set up the aquatic therapy room to make training sessions more enjoyable for both the athletes and the trainers.
During this webinar, Collin reviewed several important considerations when treating athletes and several options that could be leveraged for helping athletes quickly return to sport. Whether treating professional athletes, collegiate athletes, or the weekend warrior this webinar has tips that can help everyone.