HydroWorx May Provide a Boost to Fantasy Football Stats; Keep Players on the Field Longer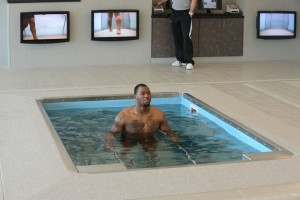 When it comes to the NFL and football season, a fan's two main concerns are their favorite team and their fantasy football team. Sometimes the fantasy team supersedes their favorite team due to the time and effort that goes into managing a successful team. The one thing that has been ruining superb fantasy football lineups since the beginning of its existence is injuries. One thing smart fantasy football owners look for in their draft is the most durable, productive and toughest players. Simply because it is absolutely impossible for any player to score your team any points from the Injured Reserve List.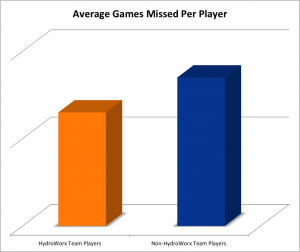 Playing each and every down, week in and week out for 16 weeks of the regular season is an extremely tough task and can be detrimental to the body. Players are bound to get bumps and bruises on any given play in almost every single game. Every player on every team goes through the normal wear and tear during the season, but it's the treatment and rehabilitation for this normal wear and tear that separates the teams. It could be the difference between a season lingering issue that sidelines a player throughout the season and just being sore for a few days after games. With the proper treatments and rehabilitation players can get back on the field as quickly as possible, if they even have to miss any time at all.

For years, HydroWorx has played a significant role in getting players back on the field quicker, and this year was no exception. With help from statistics compiled by Man-Games Lost, we researched the total number of games missed by players due to injury for each team from the first 14 weeks of the 2015 NFL Season. The results showed that, on average, teams that utilize HydroWorx pools had players that missed 4 less games per team compared to non-HydroWorx customers. Averages only tell part of the story though-in addition, 13 teams with HydroWorx pools had players miss less than a total of 115 games this season, while only 5 non-HydroWorx customers were able to do that. Out of all 32 teams in the NFL, only 4 teams has players miss less than a total of 85 games this season, 3 of them being HydroWorx customers.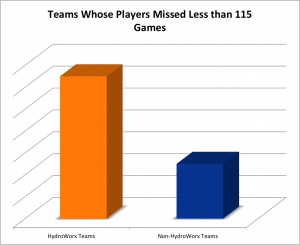 The statistics seem to show that along with great staff and equipment, the use of HydroWorx can play a role in getting players healthy and back on the field. An article written by NFL.com, "Unique recovery methods for football", includes HydroWorx as a critical tool for player health, and goes on to discuss that with players getting faster and bigger, their bodies are requiring different forms of treatment to get back on the field. The article
highlights that HydroWorx offers improvement to circulation, pain and movement while removing the stress on their joints and muscles, therefore helping get athletes back on the field quickly.
We're proud to be helping players and teams stay healthy, whether you're rooting for your favorite NFL team or your fantasyroster!
Free Webinar On-Demand
On January 14th, Ryan Bitzel, MPT, Rehabilitation Coordinator for the San Diego Padres, presented the webinar, "The use of Hydrotherapy in the Rehabilitation of Professional Athletes Post- ACL Reconstruction." In this webinar Ryan discussed the properties of hydrotherapy and how they can be utilized for rehabilitation purposes, with the specific focus on the return to sport progression of professional athletes post-ACL reconstruction.