HydroWorx Guest Blogger Nick Berra – Preparing for an Injury-Free Season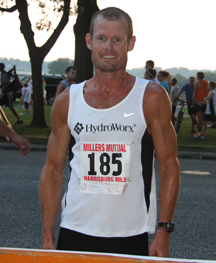 After completing a long but successful season last fall, I took some time off to give the legs a chance to recover and my body a break. Once November rolled around, it was time to start back up again.
The indoor track season began with some low-key meets in December, but the heart of the season ran from January until the national meet in early March. I learned my lesson the hard way last year when I was too lazy during the down time – this year I stayed just active enough to be ready to go once the break was over.
I started out the season just accumulating mileage, developing a base. I did very limited tempo or pace work, no intervals or speed work. I decided this year to change my event focus from being a 400/800m runner to a 800/1500m runner; taking the distance up a notch required tweaking my training plan, and this started with increasing the amount of base mileage I was doing every week.
In the past, I think I probably logged about 35 miles/week.  This year, I set 45-55 miles/week as my goal and hit that (or more) pretty regularly.
When I started increasing my weekly mileage, I was very careful to monitor the effects this would have on my legs. I have historically fared pretty well with fatigue sort of ailments.  I've never had a bad case of shin splints or a stress fracture, and my feet have held up pretty well over the years. I have never regularly run these sort of mileages before though, so I took some precautionary measures to avoid getting bit by the injury bug early in the season.
I tried to stay off of the roads as much as possible – I think softer surfaces are much easier on your legs than the pavement. It took some extra planning to get to local trails, but it was definitely worth it in the long run (no pun intended.)
In addition to getting out on the trails, I spent 2-3 days a week logging my long runs in the HydroWorx pool.
For me, long is about 10 miles or so – usually about 65 minutes. There is something about the water that makes putting in the time and work easy.  I don't know if it is the warm temperature, the reduced pounding, or the great balance between the treadmill and resistance jets, but I always look forward to these days because I know I am going to get out of the pool feeling better than when I get in.
An hour on the underwater treadmill, followed by an aqua-massage, gets me the cardio work I am looking for with only a fraction of the joint pounding I am trying to avoid.
I ended up logging between 42 and 58 miles a week from the second week of November until mid-January, with 5 of those weeks being over 50.
In Running Times, Alberto Salazar says that with his elite athletes he counts miles run in the HydroWorx pools as 2/3 of a land mile with regards to wear and tear on the body. Using this formula, if I get 30 miles in the pool a week, my legs and joints are only "feeling" 20 of these. These 10 "free" miles may be the difference between having to back down my total, or reaching the higher level which will pay huge dividends down the road.
Once late December rolled around I began introducing some tempo work into my schedule, and intervals soon followed. I mixed these up as well – some on land, some in the pool. I will try to blog about these workouts as well.
I was pleased with the injury-free completion of the base phase of my training – the cornerstone was laid for what so far has been a good indoor season. There is more still to come though, so I am continuing to try to hone my conditioning for the final month of the season.
Hitting the pool this afternoon for some aqua-intervals – will let you know how they go!