HydroWorx Featured In Current "Running Times" Issue!
The following story is adapted from the current November/December issue of 'Running Times'- a national publication for running coaches and competitive runners.  HydroWorx underwater treadmills are featured in the "Weird Stuff That Works" section, written by Nicole Esplin!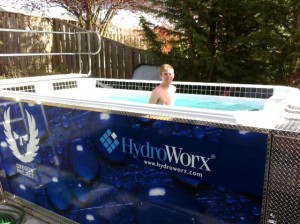 Runners at all levels are looking for a way to break through barriers, remain healthy and ultimately reach the finish line first. They will try all kinds of crazy stuff to get them there. We, of course, know that underwater treadmill running for therapy & fitness yields results– just look at two of our most frequent users, Mo Farah & Galen Rupp, Gold & Silver Medal winners in London this past August.  Rupp's coach, Alberto Salazar, implements weekly training consisting of 100+  land-based miles and another 30-35 on the HydroWorx underwater treadmill.
Esplin, a college runner with a history of injuries, decided to give HydroWorx a try.  Running in water can drastically reduce pressure on the muscles and joints.  The buoyancy of water reduces the runner's body weight around 80%, reducing tremendous force and pressure put on muscles and joints while running on land.  Esplin described her experience with the pool.
I was feeling pretty confident in my abilities until Anson Flake, HydroWorx co-founder and CEO, came over to give me a bit of a hill work-out. We turned my jets on full power and kept my speed at 8 mph. Before long I was sputtering water and gasping for air. 'How's it feel?' Flake asked halfway through my 2-minute hill. 'Pretty… hard,' was all I could mutter. Before testing the treadmill, various aches and pains had kept me from speed work for a few weeks. But I was pain-free in the pool, which allowed me to get my heart rate sky high."
The combination of resistance therapy jets, a deep tissue massage, and pain-free running separates HydroWorx products with underwater treadmills from all other forms of exercise.
Interested in learning how the underwater treadmill can make an impact in your training and conditioning program? The Underwater Treadmill Running book provides you with all the information you will need!
The Low Impact, Pain-Free, Calorie-Burning Fitness Advantage 
By: Alberto Salazar and Dr. Dennis Dolny
The HydroWorx underwater treadmill and resistance jets are effective for rehabilitation, but what about performance training?Let authors Alberto Salazar and Dr. Dennis Dolny show you why water workouts work wonders for conditioning.
"One of the things that I asked my scientific advisors was 'what are the cross training modalities that are best for distance running?' and they told me that the one single best cross training modality out there for my distance runners was the HydroWorx underwater treadmill." – Alberto Salazar
Read Underwater Treadmill Running to learn more about the advantages of underwater treadmill running for training and conditioning. Download the book now>>