HydroWorx Educational Event Streaming Live Online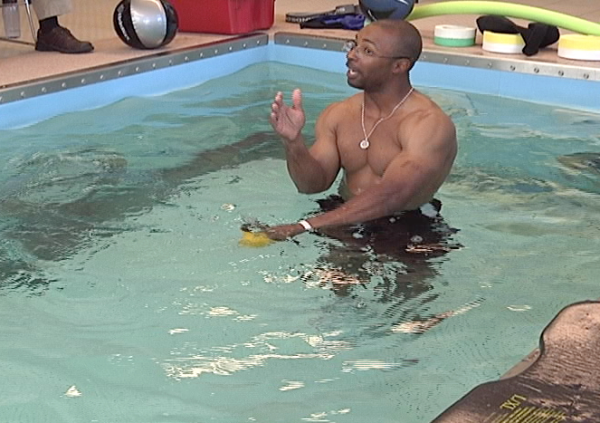 Join us in person or online for the upcoming educational event titled, Taking a Step Forward: Return to Activity with Underwater Walking & Jogging. Our presenter, Murphy Grant, Assistant Athletic Director Sports Medicine and Head Football Athletic Trainer at the University of Kansas, will be presenting live from the HydroWorx 2000 Series pool at the University of Kansas on January 15 from 4:00pm to 5:00pm CST.
Whether you are attending in person or online, Grant will be demonstrating and discussing several rehabilitation exercises that will help your athlete or patient take a step forward to begin an underwater walking or jogging program.  Using the water as a medium for rehabilitation techniques has an abundance of benefits. Increasing balance and building confidence are just a couple that will be addressed.
Attendees will also learn:
how to identify when a patient/athlete is ready to move to the next step
safe and effective progressions from non-weight bearing to walking and/or jogging
key exercise protocols for mastering underwater walking and/or jogging
For those attending in Lawrence, KS at the University, there will be opportunities to try the HydroWorx pool once the presentation is complete. Be sure to bring your bathing suit for your chance to experience the HydroWorx in person.
When: January 15, 2014 at 4-5pm CST (The program will start promptly at 4pm CST as it will be streamed LIVE via the Web!)
Where:  University of Kansas, 31651 Naismith Drive Lawrence, KS
If you are interested in attending in person, please contact Michele Reber today by email at mreber@www.hydroworx.com.
If you cannot attend in person, it is also available as a Live Webcast. If you would like to sign up for the webcast, register today!
About the Presenter:
Murphy Grant, who has been a Division I athletic trainer for nine years, is entering into his seventh year as head football athletic trainer and his fifth as Director of Sports Medicine at the University of Kansas. Grant came to KU after five years as the athletic trainer for the men's basketball program at Oklahoma State. He also served as the Cowboys' strength and conditioning coach for two seasons.
Grant attended Quincy (Ill.) University, where he was a member of the football team from 1992-96. He graduated with a degree in athletic training in 1997. Murphy then went to Illinois State, where he served as a graduate assistant in the athletic training department while receiving his master's degree in exercise science in 1999. The following summer, he spent one season working with the Boston Red Sox rookie league team. Prior to arriving at OSU, Murphy served two years as head athletic trainer at Missouri Valley College.
In his career, Murphy has been involved in exciting postseason success. While at OSU the Cowboys basketball team advanced to the Final Four, as well as a Sweet 16 appearance. He has been a part of back-to-back bowl games with Kansas football.
In addition to his athletic training work at OSU and Kansas, Grant has also worked with the television show The Biggest Loser, designing workout programs for its contestants specifically regimens affiliated with HydroWorx. Additionally, Grant has spent time working with the Chelsea Football Club of the English Premiere League and also Major League Baseball's Washington Nationals. With his vast knowledge of aquatic therapy, he has been a lecturer at several aquatic based seminars.