HydroWorx Athletes to Watch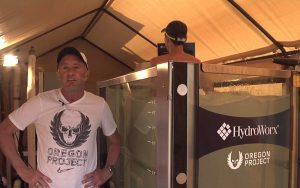 HydroWorx is honored to be a part of many athletes' training, rehabilitation and recovery regimen. We have compiled a list of elite athletes who have used HydroWorx during their journey. You can be certain we will be cheering for each of these athletes in their respective events!
---
Oregon Project  – The Oregon Project has been using underwater treadmill running as an integral part of all of their athletes' training for over 10 years as a part of the mission to end the drought of medals for American distance running. The following athletes that train as a part of the Oregon Project will be competing in Rio in a multitude of events. Watch for some impressive feats from these athletes:
Galen Rupp
2016 Events: Marathon and 10,000M
Galen Rupp will be tackling a rare Marathon and 10,000M double. This feasible (thanks to the scheduling of the two events) but difficult attempt requires a delicate balance of training. In 2004, Dan Browne was the last American to attempt both events and failed to medal in either, including a disappointing 65th place in the marathon.
Doubling in events is nothing new to Rupp, who competed in both the 5,000M and 10,000M previously and placed 2nd behind training partner Mo Farah in the 10,000M. Replacing the 5,000M with the marathon requires a slightly different training plan. Endurance and pacing are a likely focus for the marathon, while finishing speed a more important focus for the 10,000M.
Rupp's training is set up to keep him on pace with non-American runners without increasing his risk of injury. To do so, he runs approximately 115 miles per week on land and an additional 30 miles per week on an underwater treadmill. This, combined with his additional training, provides the ability to maintain endurance without the pounding on his joints.
Shannon Rowbury
2016 Event: 1,500M
Shannon Rowbury joined the Oregon Project in 2013 and is a two-time Olympian. She will be representing the US in the 1,500M. She is the American record holder in the 1,500M, breaking a 32-year standing record. Watch for Shannon's signature pink lipstick in an event recently full of controversy. Shannon will be looking to prove her pure talent, elevated by her Oregon Project training, is podium-worthy.
Matthew Centrowitz
2016 Event: 1,500M
Matthew Centrowitz ("Centro"), who joined the Oregon Project in 2011, will compete in his second games, matching his father's claim to fame. He finished 4th previously and will look to place higher this year. Coming off of a stress reaction, he ran an impressive record-breaking win at the Trials. Look for "Centro's" recognizable finish line move as he runs in a tight field.
Suguru Osako
2016 Events: 5,000M and 10,000M
Suguru Osako is the newest member of the Oregon Project. He joined the team about a year ago and will represent Japan. He is a Japanese record-holder in the 3,000M and 5,000M and was recently the 10,000M National Champion. At his young age, he has a lot of talent and we can't wait to see what he can do in the double 5,000M/10,000M.
Mo Farah
2016 Events: 5,000M and 10,000M
Mo Farah is well-known for his steady performance and his amazing "triple-double," winning both the 5,000M and 10,000M on three different international stages. His ability to perform time after time makes him a British superstar. Farah joined the Oregon Project in 2011 and trains with close friend and competitor, Galen Rupp. The duo provided an incredible moment at the 10,000M previously when they crossed 1st and 2nd. We will be cheering for another memorable finish between the two this year and will be watching for Mo's signature "Mobot."
---
Canadian Men's Field Hockey Team
The Canadian Men's Field Hockey team is looking for a comeback this year after missing previous games. Despite dealing with massive funding cuts, the team has persevered and is ready to show up big. They have been training with Nick Held at Fortius Sport and Health Centre in Vancouver, BC and spent some time doing conditioning and recovery work in the HydroWorx 2000 Series, Thermal and PolarPlunge pools. Additionally, two athletes did some rehabilitation work in the pools. Canada currently ranks #15 in men's field hockey and will be looking to upset some major players. Known as "Canada's other hockey" team, look for the Red Caribou to make a mark!
---
Gavin Schmitt
2016 Event: Men's Volleyball
After a 24-year drought, the Canadian men's volleyball team will finally return this year. Player Gavin Schmitt has overcome surgery in January to fix a black line stress fracture in his tibia. There was concern that he would be able to recover quickly enough to make it. His hard work paid off and he was able to come back in three months as opposed to the typical five-six month expected recovery timeframe.
"I was lucky to be at a place where they had an underwater treadmill with an adjustable floor."
---
We are getting excited around here! We all have our favorite events, but we also have some specific people to cheer for on the "HydroWorx team." Although none of us here have ever made it to the international stage, some of us had our dreams back in the day. We're sharing our back-in-the-day athletic photos around the company to prep for August 5.
We hope to see some wins throughout the two weeks!