Webinar Recap: The Hydrotherapy Toolkit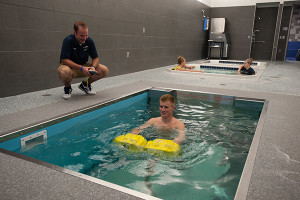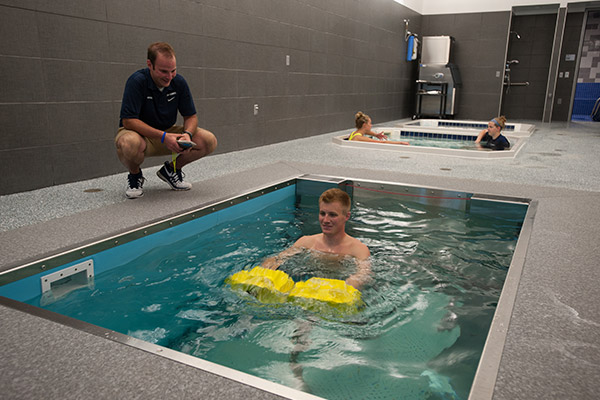 On October 12, 2017 we hosted a webinar entitled "The Hydrotherapy Toolkit: An Equipment Guide to Elevate Rehab" by Collin Francis, MS, ATC, LAT, Assistant Football Athletic Trainer at Indiana University. He did a great job reviewing a multitude of tools that can be used to make rehab in a pool more effective, efficient and fun.
Watch the full webinar to see examples of how Collin uses many of these tools with his athletes>> 
As he states, the main goal of any hydrotherapy program is to make rehab easier on the patient. Collin states,
"Using hydrotherapy may not decrease rehab time, but it will increase their level when they return – which is the goal of athletic training."
The only tool needed in your hydrotherapy toolkit is: A POOL
Collin insists that a pool must be thought of as a tool in and of itself that can be used for rehab. But certainly there are many other tools that can be used with a little creativity – anything you can think of is worth trying. Collin did a great job reviewing the tools he uses in the pool and examples of how he uses them, including the following:
Built-in aids:
Underwater treadmill
Resistance jets
Massage hose
External aids:
Weight belts
Float belts
Snorkel
Dumbbells
Railing
Theraband
Basic boxes
Float belt
Railing
Dumbbells
Swimming aids (which can be used for much more than swimming!)
Kickboards
Pull buoy
Paddles
Medicine balls
Functional activity aids – help mentally and physically
Basketball hoop
Footballs
Vertimax Raptor
Collin also mentioned some additional "technology" items that can make an athlete or patient's experience in the pool more enjoyable and productive. These are items such as:
 It's especially helpful with interval workouts, buzzing after each set, and you can change songs for new exercises. Keeps spirits high and the mind off of the injury.
Underwater cameras – giving the athlete the ability to watch themselves in the pool is huge. They can see themselves when you give them a cue in order to improve gait patterns. You can identify issues such as heel strike, equal range of motion in all joints or getting knees higher. The athlete is able to immediately see the issue and self-correct.
Computer – providing an extra computer or TV screen in front of the pool allows you to provide: exercise progression instructions, vestibular rehab protocols, virtual playbook or game film for review, Youtube videos and even movies for long term rehab.
Watch the full webinar to see examples of how Collin uses many of these tools in his hydrotherapy toolkit>> 
After the webinar, he also fielded questions from attendees. Here is a recap of a few of them:
Do you have any examples of how you use overspeed training in the water?
Taking cues from what he's learned from swim team training, Collin has created a "system" where there is a band pulling the athlete forward with jets at 100% pushing them back. Then the athlete does intervals of sprinting as the band is pulling them closer while they are pushing against the force of the jets.
How do you address athletes that may have a fear of water or can't swim?
Collin is confident the best thing you can do is get in the water with them. If they can have two hands on you they will feel much better. Let them hold onto you at all times while doing squats, weight shifts, etc.
Another way that he's eased athletes into the pool is to start them in the hot or cold tub just sitting in the shallow water. Or using the steps in the therapy pool, let them just sit on the first step for the first session, then move onto the second step for the next session.
He once had an athlete that he ended up teaching how to swim AFTER therapy was over, because the athlete had such a great time rehabbing his knee injury in the pool.
Can you talk about what you do to manage post-surgical wounds?
Most important is to always consult the physician/surgeon. You may need to convince them that getting the athlete in the water as soon as possible is the best thing for their rehab.
Collin uses bioocclusive dressing such as Opsite or Tegaderm. He checks the wound to make sure there is no drainage, then takes a dry piece of sterile gauze and puts it over the entire wound. He then covers the area with body adhesive and applies the bioocclusive dressing. Collin will use multiple layers. And then he is sure to document everything to keep detailed record that the wound stayed dry and what activities were performed in the water.