Hima Dilal's Integrated Therapy Modalities Bring Healing to South Carolina's Midlands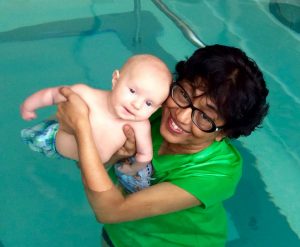 She's a frequent guest on Columbia's version of Good Morning America and other local TV shows. She's a published author and lectures across South Carolina on the benefits of aquatic therapy. But most importantly, she's the founder and head therapist at Vital Energy Wellness and Rehab Center, where she and her staff help patients with insurmountable medical conditions heal.
Hima Dalal's special blend of therapeutic modalities is something to behold. She is one of the first to combine complementary therapies (like Crystal Myofascial Release Therapy, Craniosacral Therapy, Reiki Healing, Sanjeev ani Healing, Yoga, and more) with traditional PT and OT. She works with newborns to the aging population, from chronic pain sufferers to those recovering from sports injuries. Because of her expertise in many modalities, she specializes in difficult cases—patients who have (seemingly) tried EVERYTHING, then come to her for a combination of complementary and traditional therapies. And it works.
Sensory Stimulation Case Study
Recently the parents of a nine-year old patient suffering from sensory processing disorder reached out to Hima, a board certified, licensed occupational therapist, energy medicine practitioner, fibromyalgia and sports therapy rehab specialist. After scores of therapeutic failures and at the end of their ropes, the worried parents wondered if "Ms. Hima," as her patients and staff call her, could somehow help.
"This young lady could not tolerate the sensory stimulation of socks, waistbands, undergarments, shoes or anything but a dress many sizes too large," recalls Hima. "Combing her hair created a meltdown. She understood all of the social acceptances and norms, but could not tolerate the sensory stimulation. I was confident that water would help."
Hima and her team started with Crystal Myofascial Release, then put this patient in the pool, just standing at first, letting the hydrostatic pressure gently decrease the tactile sensitivity. Soon the staff introduced aquatic massage, then jets. After several weeks, the young patient was running on the underwater treadmill with jets in full force. Neurofeedback showed the movement of the water and the hydrostatic pressure to have a calming effect. They moved her to land and introduced various tactile environments. Today this patient grooms and dresses like any other nine-year old.
Success.
Hima says the combination of therapeutic methods she employs offers a wider range of healing interventions and promotes the body's natural healing process to achieve the highest level of self-care and wellness.
Purchasing and Installing a Pool
When it came time to purchase a pool, Hima intensively studied pool options, features and prices, researching for nearly 10 years before finding, testing and ultimately purchasing two HydroWorx 500 Series pools.
"During my training in the 1980's in Cleveland, Ohio," says Hima, "I was introduced to aquatic therapy and saw huge benefits and improved outcomes from it. In 2002, I had a dream of how my own clinic should be. I knew I needed a pool—heated, with jets and massage. The HydroWorx design was by far the best."
Getting the HydroWorx 500 into her newest clinic location last year—a 20-year-old building with initially no space for a pool—was "complicated, but worth it."
"I stood right there for six hours as the contractors brought the pool in, maneuvered it through the doors and carefully dropped it into the hole we'd created for the pool. It was a risk but it really worked out great."
Her Patients Say it Best
Hima's passion for helping and healing patients from infancy to end-of-life continues to touch people every day in the Midlands of South Carolina. Maybe her patients say it best:
"Hima has made life for my daughter better. Her services and ease of making of appointments helped us greatly."
"I couldn't have asked for better treatment any place else. Excellent service from everyone from the time I called and walked in the door and left. I have seen and felt a difference."
Thanks, Hima, for bringing passion, love and nearly 30 years of commitment to your life's work.