Active Aging Week: Walking and Group Classes Move to the Pool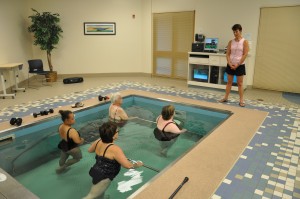 Keeping with our ICAA Active Aging Week theme for this week, Friday is Walking/Group Classes Day. When we think of walking for wellness, most of us automatically envision going for a walk in the neighborhood, on a track or at a mall. These are all great ways to go for a walk, but sometimes we need a change of pace or are limited in how much we can do on land because of pain.
An alternative way to "go for a walk" or even to engage in group classes, is in a HydroWorx therapy pool. For those that are limited with what they can accomplish on land, the buoyancy of the water reduces an individual's body weight between 20%-100%, making activities such as walking or even jogging more tolerable and enjoyable because of reduced pain.
Even for those that enjoy going for a walk outside, the viscosity of the water alone or combined with resistance jets can provide a method of increasing resistance which can lead to greater strength and cardiovascular endurance.
Using the HydroWorx 2000 Series pool at Pieters Family Life Center in Rochester, NY, Wellness Coordinator, Barb Cacia, provides multiple types of group classes which include walking on an underwater treadmill to encourage members to improve their health. Classes are created based on condition type, capabilities and interest and provide an enticing environment for participants to improve physically while also fostering personal relationships.
In the session shown below, Barb starts her class with a five-minute walking warm-up using the underwater treadmill and support bars within the pool. After that, she spends time focusing on strength exercises, balance, flexibility and cardiovascular endurance in order to help participants in all areas of their daily activities.
Watch one of Barb's classes below:
To learn more about how aquatic therapy can impact wellness, rehabilitation and falls in your community, download our tip sheet "Why Water Worx for Senior Living Services."