Find HydroWorx in Anaheim, CA this Week!
Later this week, the annual SoPAC (Section on Pediatrics Annual Conference) will take place in Anaheim, CA and HydroWorx will be exhibiting in Booth 111.
About the Section on Pediatrics:
"The Section on Pediatrics of the American Physical Therapy Association (APTA) promotes the highest quality of life for all children, people with developmental disabilities, and their families. The Section represents pediatric physical therapy and promotes its members as practitioners of choice for children (birth to 21 years) with or at risk for movement dysfunction. The Section also serves as a collective voice to further the role of pediatric physical therapists and physical therapist assistants.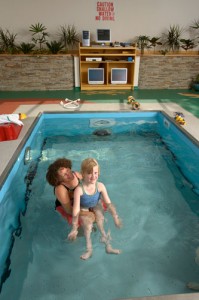 The Section on Pediatrics is committed to furthering knowledge to better serve the children in our communities, and places a great deal of importance on continuing education. The Section hosts a variety of continuing education courses, including the Section on Pediatrics Annual Conference (SoPAC), which brings together pediatric therapists from across the country and around the globe to network, share ideas, and advance our area of practice."
The Annual Conference will be taking place Friday November 8th and Saturday November 9th at the Disneyland Hotel in Anaheim, CA.
If you are planning on attending, be sure to stop by the HydroWorx booth, 111, to meet with the HydroWorx North West Regional Director, Chris Lange to learn all about the benefits of aquatic therapy for the pediatric population. Utilizing a HydroWorx pool for a child's rehabilitation not only provides therapeutic advantages for them physically, but also for them emotionally and mentally. The warm water therapy pool is a safe and fun way for a patient to receive physical therapy, sometimes without even realizing it. The variable depth floor of the HydroWorx 2000 and 1200 Series pools allows for children to perform therapy at a water level that is right for them, even sitting.
Additionally, if you stop by the booth, you will be entered in the chance to win a $100 gift card. We hope to see you there!
Watch & see how water therapy helped Anna improve her quality of life:
Don't Miss our Two Upcoming Free Webinars: Sign-Up Today!
Join us on November 12 from 1 pm to 2 pm EST for the webinar, "Expand Your Business by Offering Aquatic Therapy for the Aging Athlete," presented by Mike Studer, President and Co-Owner of Northwest Rehabilitation Associates.
This webinar will provide attendees with specific techniques for adding alternate revenue sources to a facility. Treating the aging athlete is the perfect opportunity to open your facility to more than just the typical insurance-billed rehabilitation patient.  The information shared in this webinar will be supported with case studies from Mike Studer's cutting edge rehabilitation clinic.
Learn more and register today! 
On December 3, 2013 Cindy Jarosch, PT Director of Physical Medicine at the Children's Hospital of St. Paul will be presenting the webinar, Pediatric Aquatic Therapy. This webinar will provide attendees with specific applications for aquatic therapy within pediatrics, supported by case studies. Attendees will learn how the properties of water affect children with specific diagnoses during aquatic therapy and how to use those properties to your advantage.