Facility Spotlight: Lamesa Physical Therapy and Sports Rehab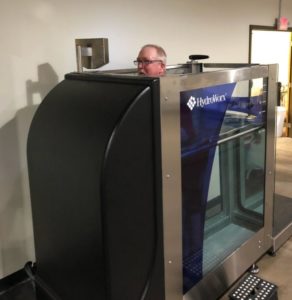 Lamesa Physical Therapy and Sports Rehab is one of our newer customers of the HydroWorx 200. It was exciting to catch up with the facility only a few months after installation and hear about the successes they have seen so far!
Located in Lamesa, TX ,the physical therapy clinic opened in January 2018 by Joshua Freitag, DPT, owner. Within a few months, they had begun looking at expanding to a larger building and within less than a year and a half, they had moved to a building four times the size of their original space. Because it is in a rural area, Lamesa Physical Therapy and Sports Rehab is one of the only privately owned PT clinics within 30-60 miles, giving them a distinct advantage. Their HydroWorx 200 was installed in July 2019 and they have already had some awesome examples of how the water is impacting their patients.
One story in particular involved a local man who had acute exacerbation of his Multiple Sclerosis. After being admitted to the hospital in Dallas, he had come to Lamesa PT for physical therapy, before they added aquatic therapy. Dr. Freitag knew that the water could really help him, so once they got the HydroWorx, he was the first patient they put into the unit. The patient basically broke down crying because he hadn't been able to walk that smoothly in almost two years. Seeing the patient have such success walking and how happy he was, Dr. Freitag said, "this is exactly why we bought this thing." The patient now comes in 5 days a week for 15 minutes to get in the water and maintain fitness. Because of this program, he has seen big changes in his life. He can now walk out of his house without using a wheelchair, get in his truck and drive to physical therapy on his own. "Seeing that kind of progress makes it all worth it."
They may have only had the unit a few months, but they are seeing approximately 8-9 clients per day (one per hour) in the HydroWorx 200. There have already been a number of success stories and people have been very receptive to it. Two or three athletes have come in after ACL surgeries because the doctors will let them run in the water long before they will let them run on land. The athletes love that they can get jogging sooner.
Dr. Freitag sees the advantages of water over an unweighting treadmill, because they are able to do more than just walking or running in the water. They will also use the unit for arm work and even jumping drills. One very active 70 year old patient was having trouble getting proprioception back after undergoing surgery for a broken foot. While hesitant at first, she was able to experience a significant reduction in her pain after Dr. Freitag had her doing jumping work in the water.
"I kind of wish we would have added the HydroWorx sooner."
That's saying a lot from someone who is not even two years into the opening of the practice.