Facility Spotlight: Creighton University's Championship Center
Athletic facilities are becoming bigger and filled with more amenities all the time. The new Championship Center at Creighton University, is no exception.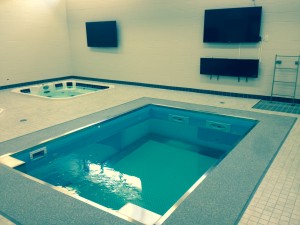 Athletic Director Bruce Rasmussen says that for "student-athletes, recruits, parents, and coaches, this facility provides Creighton with a 'wow factor' to help recruit, retain, develop, and graduate students." How could it not be with the new state-of-the-art amenities and features within the new building?
A few weeks ago the facility was opened to the media for a comprehensive tour. The first stop was the main atrium with a wall of 12 TVs, which can be configured many different ways. Another stop on the tour was the video and lecture room for coaches and student-athletes to watch game film as well as host team activities. The Creighton Championship Center also contains conference rooms, suites for coaches, locker rooms, players' lounge and the training center.
The locker room boasts a 94″ touch screen TV with the players' lounge right next door. The lounge features seven large TVs as well a nutrition station and gaming area. These athletes truly have everything they could ever want or need in this new athletic building. 
But wait, there's more! The Wayne and Eileen Ryan Athletic Training Center sits right next to the practice courts and the locker room. The training center features a hydrotherapy room which includes a HydroWorx 2000 Series pool with a ColdPlunge and ThermalPlunge pool, all utilized for rehabilitation and recovery.
The Creighton University Athletic Medicine Staff is excited about the opportunity to utilize HydroWorx pools as a key component of the new Championship Center. HydroWorx will give us the opportunity to provide more dynamic rehabilitation and treatment for our athletes.  They will be in a position to functionally train post-injury in a quicker time frame and the underwater treadmill will also allow them to condition in a low-impact environment.  It will be a valuable asset to our student-athletes and medical team. – Benjamin McNair, Head Athletic Trainer of Creighton University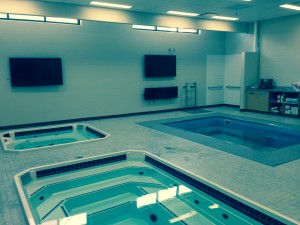 Their brand new HydroWorx therapy pool is already reaping benefits for a sophomore point guard. The athlete dislocated his right kneecap in the game against Xavier on March 1st. "I'm an advocate [referring to the underwater treadmill]," he said after undergoing his first on-court workout this week. "I love it. I don't know if I was the first person here to use it, but I definitely was one of the first two or three." He has been able to do a lot more in the pool than he could do on land which has been helping to accelerate his recovery time frame. Although the whole rehabilitation time frame seems lengthy, he has been making great progress over the past four months. His first on-court activity (last week) consisted of some agility work as well as light shooting drills, all with McNair supervising. Read the full story here>>
Read more about this new state-of-the-art athletic facility today>>
Upcoming Free Webcast: Aquatic Rehab Progressions for Sports Related Foot and Ankle Injuries
Join us on July 15, 2014 from 11:00am to 12:00pm EDT for the webcast "Aquatic Rehab Progression for Sports Related Foot and Ankle Injuries," presented by Jason McVeigh MS, PT, SCS, LAT Director of Sports Medicine at the University of Tennessee. This webcast will provide treatment ideas using the benefits of hydrotherapy for common sports-related foot and ankle injuries such as 5th metatarsal fractures, Lisfranc injury, "turf-toe," ankle sprains and high ankle sprains. It will include a discussion of implementing HydroWorx equipment into a new facility. Learn more and register today>>