On-Demand Webinar Gives Insight on Innovative Co-Treatment of Rett Syndrome in an Aquatic Environment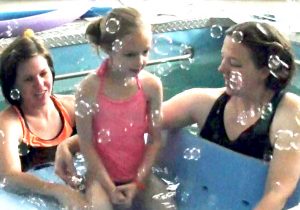 Innovation is truly the key when it comes to working with patients who have unique conditions, including Rett Syndrome. Rett Syndrome is an often-misdiagnosed neurological disorder that mostly affects girls and causes a number of increasingly-challenging symptoms, including a period of developmental delay that usually starts at between 6-18 months of age. One group of colleagues working at the Lexington Regional Health Center in Lincoln, Nebraska was able to help a young patient with Rett Syndrome experience a better quality of life through the integration of aquatics and a variety of therapies. Their compelling collaboration of efforts has been documented in an on-demand webinar, "Innovative Co-Treatment of Rett Syndrome in an Aquatic Environment", now available online.
View the webinar on-demand now>>
During this HydroWorx-sponsored webinar, presenters, physical therapist Leeann Smith, occupational therapist Maura Rabe and speech therapist Kiley Goff are very open when talking about the merger of each of their specialty areas. The Lexington Regional Health Center aquatics program is a rural program, and the hospital has been using their HydroWorx 750 therapy pool for about seven years. The team members have worked with a diverse range of patients, including infants and those on the crux of celebrating centennial birthdays. In their community, they're known by providers and have built connections so they receive aquatics referrals without having to ask, a huge nod to the way they've steadily built a reputation for excellence.
Four of the benefits of the water for them and their patients include :
buoyancy
hydrostatic pressure
viscosity
turbulence
Each property of water accomplishes specific goals in the pool relevant to the Rett Syndrome patient case study they discuss during the on-demand webinar. The trio chose to work in tandem with their Rett Syndrome patient because water is unique in its ability to be alternatively calming or alerting. This makes it possible to increase or decrease sensations as the patient needs. It also offers stimulation versatility between the five typical senses, sound, sight, taste, touch and smell, as well as processing of unconsidered senses like balance, proprioception and vestibular senses.
Why Is Sensory Play Important in the Water?
Sensory processing, regulation and modulation are essential for all people. Those with Rett Syndrome have deficits and therefore can't go through the standard cognitive, linguistic, social and emotional processing experiences. In addition, sensory play fosters physical development, such as fine motor skills, gross motor skills and creative play. By including sensory play in the water, patients who have Rett Syndrome can learn to harness their sensory processing.
There are four stages of Rett Syndrome: early onset, rapid destructive, plateau and late motor deterioration. During stage two, it's very difficult for a child to relax. Water helps facilitate the relaxation needed, and may be one of the reasons that other researchers have studied the use of hydrotherapy for Rett Syndrome patients. For instance, one documented case assessed the abilities of an 11-year-old girl who was in stage three (plateau stage) over an eight-week period. Her developments were all positive.
Lexington Regional Health Center Rett Syndrome Case Study
The girl that Smith, Rabe and Goff have been treating was diagnosed with Rett Syndrome at age five. They began their therapies on land, progressing later to aquatic therapy and occupational therapy. Finally, speech therapy elements were introduced. At the time they began their work with her, she was suffering from frequent falls, an abnormality of gait and high frustration levels. She had a large vocabulary, but it was unplanned. As with other Rett Syndrome patients, she displayed hand wringing and was impulsive. Thus, her safety was a main reason her parents and doctors wanted her to undergo intensive physical, occupational and speech therapy.
Other goals for the young patient included increased independence, involvement in family activities, ability to join a school environment, improved physical health and fitness and increased quality of life. To help reach these goals, the professionals at Lexington Regional Health Center utilized a variety of equipment in their HydroWorx therapy pool sessions, such as pool toys, bubbles, ducks, wonderboard, flotation mat, musical instruments and, initially, a patient wet vest.
Over time, their young client found herself performing many activities like floating, kicking, sitting, rolling, standing, walking, "swimming", reaching, sharing, sorting, hiding and finding. Due to her heightened sensitivity, only natural lights were used during her sessions, as the overhead lights proved too intense for her eyes.
To encourage her communication activities, speech therapist Goff introduced an alternative communication system which uses direct (touch screen) and indirect (eye gaze) response methodologies. Though water-based speech therapy isn't often used with patients, the team at Lexington Regional Health Center has found that their patient's verbalizations are more intentional when she's in the water.
The Future of Integrative Therapies in Water Environments
As this on-demand webinar clearly shows, there are benefits to being creative and integrating different types of therapies for the benefit of your patients. The hope is that more innovation between therapy disciplines will continue, leading to advantages for those with wide ranges of conditions.
Questions and Answers from This On-Demand Webinar
How do you bill the aquatic session for each of the different types of therapy?
We bill according to units. If we have her in the pool for half an hour, we each bill a unit. Oftentimes, her sessions go into the 40-60 minute range. If all three disciplines are participating, we will bill one unit for each, according to time. We'll determine session-by-session.
Do you ever incorporate parents and/or siblings in the treatment, especially for a functional activity?
Yes. We are trying to teach the family activities they can do at home. We're trying to incorporate functional activities like reaching and putting clothes on. When we have worked with siblings on the side of the pool, we're working on reciprocal play and overall engagement.
How long has she been in therapy? How many goals has she accomplished?
Two years. Of the goals, I think we've seen significant improvement in all of the goals. When she started with us, she could do school for two hours a day. Now, she is able to go to school for the full length of eight hours. She eats lunch there. She does have a paraprofessional there. She also attends functions with her family. Mom said that this year, she was able to go to a basketball game and she was able to stay for the whole time. She was able to go bowling this year and it wasn't overwhelming for her.
Do you ever work with autistic children in the water? If so, do you recommend activities and exercises in the water?
We don't have many referrals for that right now. My recommendation would be anything sensory, such as moving quickly in the water or pushing off from the side of the pool. You do have to be careful not to overstimulate them as well. It's a little bit of trial and error. Sometimes we had to introduce a new activity three or four times before she would participate.
Do you have experience and advice for transitioning out of the pool without a meltdown?
We typically try to add calming, relaxing activities at the end like singing and rocking. Some of it has to do is establishing a routine. Let the child know that something is the last thing you're going to do, like a goodbye song. Also, you might incorporate the last task as getting in and out of the water and/or putting the toys away. I've also seen where they would transition from the pool to the poolside shower to add water involvement.