Congrats to Chelsea FC – Champs of the FA Cup and Champions League!!!
Another championship goes to our valued HydroWorx 2000 Series customer!
Chelsea and Liverpool faced off in the 131st edition of the FA Cup.  The world's oldest domestic soccer competition, kicked off May 5, 2012.
Chelsea took the game by a final of 2-1, claiming their fourth title in six years, and seventh overall.
The scoring started off in the 11th minute by Chelsea's Ramires.  Just after half, Didier Drogba netted another to increase the lead to two goals.  Liverpool's Andy Carroll would cut into the deficit in the 64th minute.  Controversy was created as Carroll nearly tied it up with an 81st minute header, but was denied by the hand of Petr Cech.  Many believed the whole ball had crossed the goal-line; however replay later showed that the entire ball had not crossed the line.  Liverpool controlled the ball for the majority of the second half however, Chelsea persevered.
Two weeks following their FA Cup victory, Chelsea found themselves matched against Bayern Munich for the Champions League crown.
Chelsea found themselves in another tight match in this one.  After regulation and extra time had been completed, the score remained 1-1.  Penalty kicks ensued.  Chelsea would go on to win 4-3 on penalties.
Many feel Bayern outplayed Chelsea for most of the game, however after missing on several opportunities in the first-half the score was still even at 0-0 until 83 minutes in.  Bayern took the lead when Thomas Muller put a header past goalie Petr Cech.  Chelsea were not finished.  Didier Drogba headed in the equalizer off of a corner with two minutes remaining.  Following the heroic goal, Drogba tripped Franck Ribery in the box in the first period of extra-time.  Arjen Robben took the penalty kick for the win, but was denied by Cech.  Both teams fought to a stalemate, and it was left to penalties to decide the winner.
Philipp Lahm and Mario Gomez executed the first two penalties to put Bayern out in front.  It was all Chelsea from that point on.  They would execute their final four penalties, while Bayern connected only on one of their final three.  Didier Drogba hit the clinching goal, giving Chelsea a 4-3 win.
Three Chelsea players (Gary Cahill, David Luiz, and Florent Malouda) were questionable with hamstring injuries leading up to the game.  All three went on to play in the big game!  Luiz even went on to contribute a penalty kick goal!  As known users of our HydroWorx 2000, we'd like to think that our product played a part in the quick recovery and ultimately, the return to play for these players.
So how do these underwater treadmills have such a positive effect on recovery?  The answer to this question lies in both the buoyant properties of water and our technologically advanced products.  HydroWorx's underwater treadmills eliminate 20% to 100% of the user's bodyweight.  This allows the athlete to maintain their previous conditioning level as they regain mobility in the rehabilitation process.  Injured athletes unable to exercise under normal circumstances can now achieve immediate results by carrying as little as 0% of their actual bodyweight.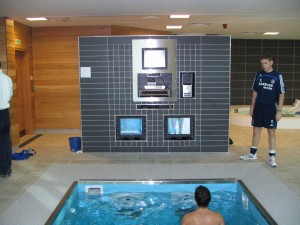 HydroWorx is proud to have played a role in helping to keep the Chelsea squad performing at remarkable levels.  We are truly grateful to have them as customers.  We wish them, as well as all of our other customers, continued success.