Canada Olympic Park's New Addition Includes Hydrotherapy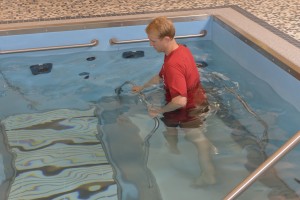 Canada Olympic Park was originally created for the 1988 Winter Games in Calgary, Alberta, where hundreds of athletes from 57 different countries competed for gold. Although those games have come and gone, Canada Olympic Park is still going strong. Now owned and operated by Winsport, a non-profit organization dedicated to becoming the world's leading sport institute, the facilities serves as a multi-purpose competition and training centre for Canada's most advanced athletes.
Recently, the Markin MacPhail Centre was completed and with it, WinSport now offers state-of-the-art hydrotherapy and year-round rehabilitation and medical services for both the high performance athlete and the average individual looking to reach a performance goal. The goal of this new centre is to provide a sport institute model including the best equipment, tools and people. Natasha Slack, WinSport Medicine Clinic manager states,
"The new facility offers an amazing array of tools to serve our patrons, including four hockey rinks, multi-use meeting spaces and a medicine clinic, which features a HydroWorx aquatic therapy pool with an underwater treadmill."
"We have toured a few of the best professional teams' facilities in the US," remarked Kevin Wagner, BSc. (PT), "and were very impressed with what we saw offered through the HydroWorx tubs. We wanted to bring a form of hydrotherapy to our facility that was more than just whirlpools. We have found the combination of relaxation the water provides and the unloading of the joints increases our ability to get athletes into a good movement pattern and back to their sport faster."
The aquatic environment which includes a HydroWorx 750 Series Pool with an underwater treadmill as well as hot and cold plunge pools, provides the benefits of the natural properties of water for rehabilitation, recovery, regeneration and performance training, both for high performance athletes and the general public.
To learn more about how aquatic treadmill training can be used for elite athletes to increase stamina and metabolic conditioning, watch our recent webinar, "Aquatics for Energy System Training & Metabolic Conditioning," on-demand here.