BYU Cougars Count on Water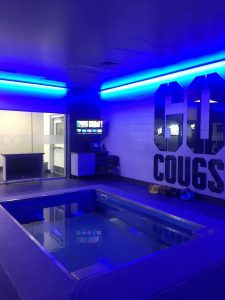 Nestled in the towering mountains of the Wasatch Front stands a university famous for clean-living and quarterbacks. Jim McMahon, Steve Young and Heisman Trophy-winner Ty Detmer all hail from this haven in the hills.
BYU in Provo, Utah first invested in HydroWorx technology in 2004. Soon thereafter they spear-headed multiple academic studies documenting the effectiveness of underwater treadmills in training and rehab. Just last year, BYU installed more HydroWorx pools, including a HydroWorx 2000 Series, HydroWorx 300, and plunge pools.
UPGRADING THE TRAINING ROOM
"My first item of business when coming to BYU was to bring the football team up to current aquatic training standards," says head football athletic trainer Steve Pincock, ATC, CSCS, LAT, who first used HydroWorx technology as the Head Football Athletic Trainer at Texas Tech University. Steve shared his experience with aquatic training with BYU alumni groups and other school donors. In a relatively short timeframe, he brought this new technology to the BYU training room.
Steve says the affects have been impressive.
"I'll get an athlete with a grade one or two knee or ankle sprain on game day and we'll put them in the pool on Sunday. They'll be limping on land but within five minutes I'll have them walking in the pool without a limp."
BENEFITS TO ATHLETES
Many athletes find that their underwater treadmill workouts produce a renewed sense of strength in their legs, abdomens and upper bodies. Exercising in water enables different muscle recruitment patterns than those on land.
Steve and his team especially value water's ability to unload joints, naturally compress and provide a safe environment for movement while healing.
"Water compresses the injured area and reduces inflammation, all while the athlete is gaining a cardio workout and increasing function. The therapeutic effects of water and unloading are unparalleled. Water is such a safe and effective way to rehab."
CASE STUDY
"Early this past season," says Steve, "one of our athletes suffered an injury in Wednesday's practice. He was very concerned about being ready for Saturday's game. We put him in the pool multiple times a day starting Wednesday evening. We told him "if you work hard in the pool, you'll play on Saturday."
"Swelling decreased almost immediately with pool use, due to the hydrostatic pressure. He increased movement and function quickly. He really bought into it, hit the pool hard a couple of times a day.  We increased the speed slowly with every session, added lateral movement, then incorporated sprinting and intervals. He got his confidence back, and by Friday was pushing off his toe and sprinting. By Saturday—the way he played—you would not have known he had an ankle sprain earlier in the week. Without the HydroWorx pool, there is a good chance he would not have played that game. We have these experiences all the time."
AQUATIC THERAPY, POST-OP
Post-surgical patients have also benefitted from BYU's aquatic program.
"We had a couple of guys undergo ankle surgery after the season and the first thing they asked was 'when can I get in the pool?' They are amazed at the results after surgery. The ability to watch themselves through the built-in monitors gave them confidence and assurance that their bodies were functioning properly.
"Without the pools, the athletes' chances for success are limited. We get great feedback from them about our aquatic program."
Page Updated on: June 16, 2020