Aquatics On-Demand Webinar Is Perfect for Clinical Practice Research Buffs
Many regular HydroWorx webinar attendees know that we're always happy to supply as much information as possible with our hour-long online events.  Recently, presenter Dr. Kristina Stanich, Director of Physical Therapy at Michael Johnson Performance, in McKinney, Texas, delivered an abundance of relevant information during "The Impact of Aquatics on the Clinical Practice of Physical Therapy".  During her conversation about the many benefits of hydrotherapy and aquatic exercise, she shared several research studies and findings.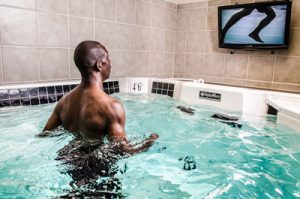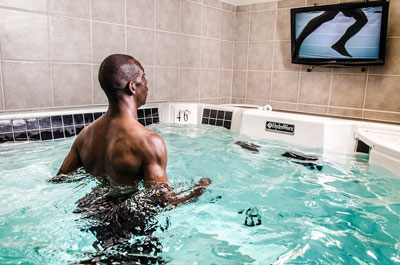 What's so exciting about research?  Plenty.
First, having well-documented research backs what physical therapy professionals already know: water works.  Water offers assistance, support and resistance through buoyancy.  Its natural viscosity provides resistance to movement in all directions.  Oh, and let's not forget about hydrostatic pressure, which offers similar compression to wrapping an extremity, without any impaired movement.
Research also helps clinicians understand how to use aquatic therapy to their patients' benefits.  Consider the topic of buoyancy as it pertains to people in water.
As Dr. Stanich points out, the weight-bearing capacity of water changes depending upon two main factors, depth and activity.  People who exercise in water up to their C7 vertebrae only feel about 8% of their body weight, making this a terrific modality for those who can hardly bear weight at all but need to start rehab.  When submersed to the Xyphoid process, they carry about 28% of the load of their body weight.  To the mid-line of their bodies, the figure jumps to around 47%.  These figures are for static activities; when adding walking or running, you can significantly increase how much weight is impacting the body.  This slowly brings the injured body back to being able to comfortably complete land exercise.
Finally, research helps physical therapists to better educate others.  When their colleagues, patients or physicians, have questions, they can back their beliefs and anecdotal evidence with facts.  Never underestimate the power of being able to say, "This isn't just what I think… here are some respected clinicians who have come to the same conclusion…"
If you've been looking for research, you'll find it throughout "The Impact of Aquatics on the Clinical Practice of Physical Therapy".  Additionally, Dr. Stanich presents her own experiences that dovetail with the research she's found.  Her diverse background working with athletes of all ages and from sports as specific as Ultimate Frisbee makes her a clear-cut leader in the field, and someone from whom attendees of her webinar can learn.
Dr. Stanich offers advice on problems associated with the shoulder, back (including how to deal with those with chronic and acute lower back pain), hips, ankles and knees. Knees are a particular focus for her in her current position, so she dives deeply into the research available on aquatic exercise in patients with knee conditions like osteoarthritis, ACL surgery post-ops, meniscus tears and articular lesions.  She also touches upon clientele who may present other problems that are conducive to aquatic therapy (e.g., fibromyalgia, multiple sclerosis and rheumatic disease.)
The clinical information of "The Impact of Aquatics on the Clinical Practice of Physical Therapy" is counterbalanced well with case studies of plyometric exercises and protocols used on actual patients.  Wrapping up the webinar, listeners finally get answers to questions like these:
Do people lose the fear of moving sooner when they're in the water? (Hint: The answer has a lot to do with the confidence associated with aquatics.)
What is the running technique used for athletes when they're running in the water? Is there any heel contact/strike?
Is a patient's aquatic treatment schedule limited by the doctor's expectations, or is the experience a collaborative arrangement between physician and physical therapist?
How long do typical aquatic therapy sessions last?
How does a clinician decide upon how to progress an aquatic therapy patient to land-based exercises, therapies and activities?
How long should aquatics ONLY be used post-ACL reconstruction? When is the best time to transfer to a land-based program?
To get the answers to these questions and learn more about aquatic therapy from a Board Certified Sports Clinical Specialist who has practiced in sports medicine and orthopedic physical therapy and works with recreational and elite athletes in McKinney, TX, watch the webinar on-demand today.